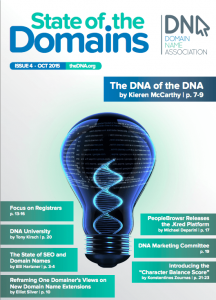 This is my first article that has been published in the traditional style: in a paper magazine. The magazine is called State of the Domains and is published by the Domain Name Association.
I would like to thank the Domain Name Association (DNA) for giving me this opportunity and especially Simon Cousins that is the issue editor and co-founder and CEO of Allegravita LLC.
My article is published on issue 4 of the DNA State of the Domains magazine that is on a 500-copy print run and is being distributed at ICANN 54 conference in Dublin Ireland that started yesterday.
The article is something I have been thinking since New gTLGs first came out and have been working on the data for a few months now. I hope you enjoy it. As always I welcome all comments and requests for future work.
Introduction
The purpose of this article is to analyze the number of characters Continue reading →