MOZ launched a new free tool giving a quick overview of top SEO metrics for any domain name: Domain Analysis.
The new Domain Analysis tool is 100% free but is limited to 3 reports/day. Moz Pro users get unlimited reports.
The MOZ tool showcases a quick preview of many top SEO metrics in one place, including:
Domain Authority
Linking Root Domains
# of Ranking Keywords
Spam Score
Top Pages
Top Linking Domains
Discovered and Lost Links
Keywords by Estimated Clicks (new)
Top Ranking Keywords
Top Featured Snippets (new)
Top Branded Keywords (new)
Keyword Ranking Distribution
Top Search Competitors (new)
Top Search Questions (new)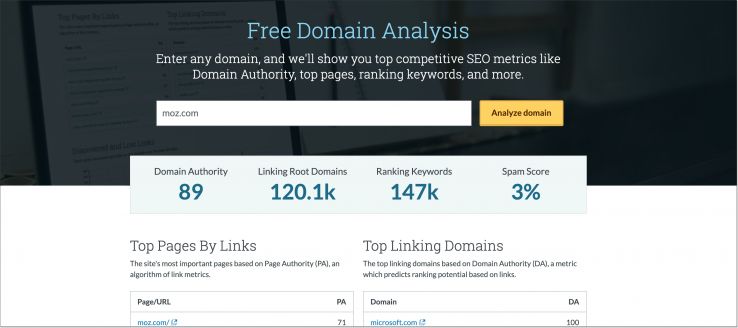 New experimental metrics
Domain Analysis includes a number of new, experimental metrics not available anywhere else. These are metrics developed by MOZ search scientist Dr. Pete Meyers. Those metrics include:
Keywords by Estimated Clicks
You know your competitor ranks #1 for a keyword, but how many clicks does that generate for them? Keywords by Estimate Clicks uses ranking position, search volume, and estimated click-through rate (CTR) to estimate just how many clicks each keyword generates for that website.
Top Featured Snippets
Search results with featured snippets can be very different than those without, as whoever "wins" the featured snippet at position zero can expect outsized clicks and attention. These are potentially valuable keywords. Top Featured Snippets tells you which keywords a site ranks for that triggers a featured snippet, and also whether or not that site owns the snippet.
Branded Keywords
Branded keywords are a type of navigational query in which users are searching for a particular site. These can be some of the website's most valuable keywords. Typically, it's very hard — for anyone outside of Google — to accurately know what a site's branded keywords actually are. Using some nifty computations in our database, here you'll find the highest volume keywords reflecting the site's brand.
Top Search Competitors
Knowing who your top search competitors are is important for any serious SEO competitive analysis. Sadly, most people simply guess. You may know who competes for your favorite keyword, but what happens when you rank for hundreds, thousands, or hundreds of thousands of keywords? Fortunately, we can comb through our vast database and make these calculations for you. Top Search Competitors shows you the competitors that compete for the same keywords as this domain, ranked by visibility.
Top Questions
"People Also Ask" have become a ubiquitous feature of Google search results, and represent a good starting point for keyword research and topic optimization. Top Questions shows questions mined from People Also Ask boxes for relevant keywords.