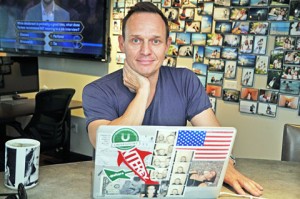 Frank Schilling, owner of Uniregistry, just nailed the first nail on the New gTLD coffin. I wonder how the other registries are feeling about this?
Yes, I am angry once again even though this price hike does not affect my own New gTLD names. But this affects the whole ICANN New gTLD program.
Did Frank Schilling just killed the New gTLD domain name program? In my mind he did kill its soul.  No, New gTLDs are not going away any time soon. But domainers lost most of their faith in the program.
16 TLDs from the Uniregistry's portfolio of 27 will see price increases of up to 3,000% starting September 8, Uniregistry CEO Frank Schilling told DomainIncite.com.
ICANN requires a 6 month (180 days to be exact) warning to registrars when changing the renewal price. ICANN recently eliminated from the New gTLD registry agreements the need to inform ICANN of any such changes. Registries only need to inform the registrars of such changes. Who observes that rule, and how, is anybody's guess. Registrars don't even have to inform registrants according to ICANN rules. ICANN cares so little that they don't even want to be notified about price changes!
The rule says that registries should only give a 30 day notice to registrars when changing the price on new registrations. This is what Donuts did on several domains in October 2016, both increasing and decreasing prices but only by a relatively (compared to Uniregistry) small margin. It was not a 3,000% margin. But more crucially the Donuts changes in pricing did not affect renewals. Existing domain names were grandfathered. So people invested (one way or another) in these domains weren't affected. Of course that does not mean that this can't change in the future. But grandfathering has 2 prerequisites. You need domains to grandfather, which the 16 Uniregistry obviously don't have, and you also need potential new registrations, which again there are none.
ICANN imposed no pricing caps on New gTLDs and allowed registries to reserve unlimited domains with only one goal. To sell as many new extensions as they could and to get more money to spend on salaries, consultants and travel expenses. The result is that ICANN has millions of dollars in the bank and we are in this mess.
.Com and the other gTLDs like .net, .org, .info and .biz have pricing caps. They can only increase prices by 10% every year and give 6 months of advance notice. Verisign, the .com registry, was even banned in 2012 from increasing the .com wholesale price for 6 years by the US government. The ban will probably continue for another 6 years.
What will the reaction of the end-users be when they realize that their renewals increased from $10 to $300 per year? Well, there are not a lot of end users to begin with so that is the reason that Frank is increasing the prices on these 16 tlds. Most people will not realize the renewals changed as the domains will be on auto-renew or are renewed by brand protection agencies/registrars that don't care about their customer's money. Actually the registrar margins will be higher so these agencies will be happier.
Most of the registrations in those small tlds are defensive just like in 3 other New gTLDs that Uniregistry operates: .cars, .car and .auto. I mention these extensions because these retail at about $2,800+ per year. These are extensions with less than 500 registrations each but they are profitable.
And this is the model that Frank is trying to emulate by increasing prices in these small TLDs. So who will renew their domains and who will buy new ones? Probably the defensive registrations will remain intact and that alone will pay for the other losses and make a lot more money. The very few people that have developed websites are also trapped. Finally, the few domain investors that bought these extensions will drop most of their domains. This move will keep these extensions afloat but has tremendous repercussions on the New gTLD program. We are entering .sucks territory here.
Of course people have 6 months to lock down their current pricing by renewing at current prices for up to 10 years. Will they do it? Domainers usually don't renew for a lot of years in advance because circumstances change (really?), they want to keep some liquidity and healthy cash flow and because their renewal cost is very high and for the most part it is fueled by sales. Some end-users could renew for 10 years. That is if they ever hear about this price hike from their registrars and understand how to lock down prices.
I didn't buy more than 15 of Uniregistry's domains because all names were reserved in the first place and I didn't feel like buying 2nd tier domains. I only bought a few numerics in .click and a 2-3 other domains that I was going to drop anyway.
Kevin Murphy from Domain Incite said that "The higher prices will likely lead in the short term to lower registration numbers (as speculators flee) but will give Uniregistry more cash to invest in marketing.". My reply to that is "what speculators?". These sub-5,000 or sub-2,000 tlds have very few speculators to begin with. What this will do is scare the speculators out of the other new gTLDs that have higher registration numbers. Rick Schwartz wondered on Twitter if Uniregistry is trying to claw back domains. My reply was: "There are no domains to claw back!".
Lately some new gTLD registries were dropping their prices to attract new customers. MMX (Minds + Machines) dropped premium pricing on new domains while Boston Ivy dropped its prices on its extensions and claimed an increase in registration numbers in .broker.
One of the next posts I was planning to write is what do you do when your extension is failing. Do you increase or decrease your prices? Of course it depends on various factors including the current renewal rate. But this Uniregistry massive increase is not something I was expecting or thinking. I would say I would not expect that from Frank but people (including myself) tend to forget.
Let's look back…
Domainers were angry when the first 2 Uniregistry's New gTLDs (.sexy and .tattoo) came out and all remotely good names were reserved despite Frank saying that Uniregistry would not reserve any domains. I was pretty angry too. You should have a read on my post and the 70 comments from 3 years ago and see how angry I was and what other people said: "All good .tattoo and .sexy domains are not available. The reason is unknown…". I guess we had this coming.
BTW, if you reserve all your domain names at launch and you don't get any registrations during the 1st week of launch then it is too late to overturn this. Listen that .blog?
I respect Frank Schilling as a domainer and as a businessman but this is just not right. He just didn't think this through. I think the (no) grandfathering part feels like a betrayal to most people and the implications are huge.
ICANN tried to introduce tiered pricing in .org, .biz and .info back in 2006 but the proposed contact was opposed by many people and failed. Here is what Frank Schilling said in a comment:
"The combination of "presumptive renewal" and the "lifting of price controls on registry services" is incredibly dangerous. Imagine buying a home, taking on a large mortgage, remodeling, moving in, only to be informed 6 months later that your property taxes will go up 10,000% with no better services offered by local government. […] This agreement as written leaves the door open to exactly that type of scenario. Domain registrants accustomed to paying $8 or $10 may suddenly be faced with a bill for $500.00 per name year or more because their name is desired by more than one party."
This is what Frank Schilling said in regards to pricing caps back in 2008:
"My concern relates to pricing caps on new registries, specifically where new TLD contracts might be used as precedent for the dominant .com and .net registries to re-craft their agreements in a similar fashion."
"ICANN simply can-not let this issue whisper by, just two years after so many registrants leapt to protest variable pricing. It would be the mother of all Internet tragedies and a crippling blow to ICANN's relevance if millions of pioneering registrants were taxed out of their internet homes as a result of the greed of one registry and the benign neglect, apathy or tacit support of its master."
Oh, how things change…
Frank Schilling said in his New gTLD applications that "Uniregistry intends to make a contractual commitment to registrants and their registrars not to increase registry prices above cost of inflation for the first five years after launch of the registry.".
This is at least a serious breach of trust.
Thoughts on my New gTLD portfolio
I had started trimming my New gTLD portfolio on January 1st this year. I should have done this last year but I was so busy selling to the Chinese! My portfolio mainly consists of Donuts domains. I am not really affected by this Uniregistry price increase. Donuts has said several times that it will not be changing renewal prices and I (probably) believe them. But what tells me that Donuts won't be sold to some new owner that has other plans? What tells me that Frank is not buying Donuts?
I am thus trimming down my portfolio. As I said I started doing this long before all this mess broke out. I even tweeted about it and I have my New gTLD renewal report (from January and February) ready to post. Will I trim my portfolio even more aggressively now? Maybe 10% or 20% more aggressively. I am mostly bringing my cost down by dropping the most expensive domains (which I don't have many) and but also protecting myself by similar future price hikes. I always knew this could happen. I just didn't expect it so soon and I certainly didn't expect the margins. BTW, in case of a big price hike I would NOT lock down pricing on 50% or more of my domains. Mostly because out of principle but also because domains with high renewals are hard to resell.
My portfolio only consisted of 6.5% New gTLDs. I think it is going to be at less than 3% in 2018.
The future of the New gTLD program
So what will happen from now on? Is the program doomed? Well it is not dying any time soon but I see it going slowly downhill from here. The upcoming Chinese drops will help to that and the non-renewals of many (.xyz, etc.) promotions will also be a factor concerning the pure registration numbers. Of course pure registration numbers is not an indication of success or adoption but it is certainly a metric that a low of people are following. And the media and companies will sooner or later realize the risk in New gTLDs.
Of course some registries will do better than other (as they do now) and people will learn who to trust more. But overall trust is lost and this is something you can't gain back.
This move makes people supporting New gTLDs look like complete idiots. Including myself.
Frank said that "The alternative to repricing would be to sell the TLD in question to a competitor,…". Well, there is another alternative. You can let a TLD just die. Drop it like a domain name. That of course could lead to someone buying it of ICANN but I am just saying…
BTW the TLDs that will see the biggest price hike are some of the worst extensions. They have maybe 20 or 30 possible good generic terms and then all you can do is buy your brand name in them. (.hosting, .juegos, .blackfriday, .hiphop and .guitars ???) I had 3 domains (if you take out .click) in these 16 extensions and I had decided to drop them even before this.
If you only have 2,000 registrations then both domainers and end-users don't want the extension. The TLD simply sucks. Admit it and move on.
So who will buy domains in these bad extensions for $300? End-users that temporarily fall in love with New gTLDs.
Yes, there is still some money to be made in New gTLDs by domain investors. But you need to be really focused, very skilled, experienced and have some luck as well.
Will end-users find out that New gTLDs have no pricing caps. Eventually they will. Will they understand it or even care? It remains to be seen.
(Hat tip to George Kirikos of Leap.com for a few tips and links.)