GoDaddy released a new domain valuation tool. The new GoDaddy Domain Appraisals are still in best testing.
GoDaddy is launching a new domain valuation tool and wants to help people determine the value of their domains.
GoDaddy can appraise domain names from any registrar, and they claim to have the best accuracy with common, English language-based domains.
GoDaddy will eventually have the resources to appraise entire domain portfolios. GoDaddy does not appraise developed websites, but they can provide a domain appraisal for any domain, regardless of any website attached to it. In short, they do not take the developed website into account, they only predict the sale price of the domain name.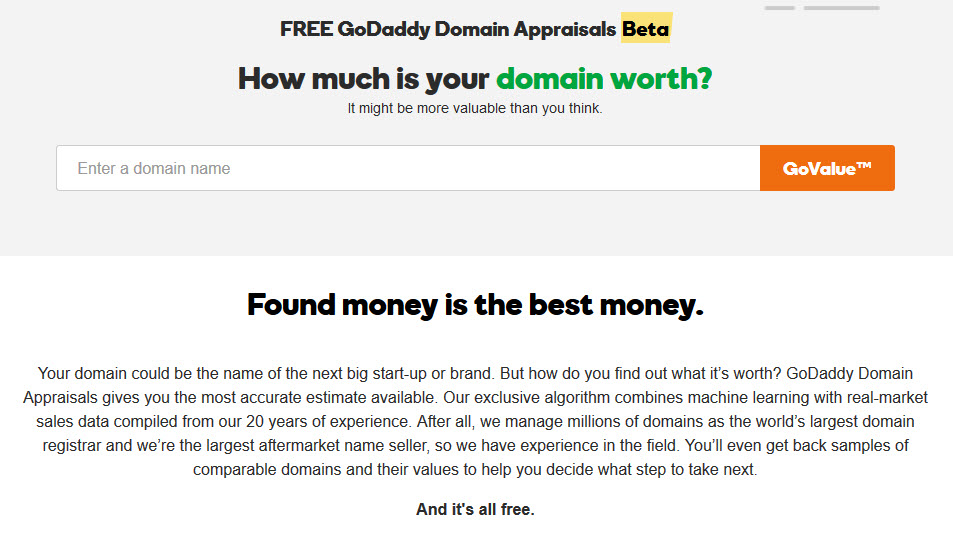 Here are some stats that GoDaddy shares:
So the average domain name that is registered at GoDaddy is worth about $500 according to GoDaddy.
I wasn't happy with the crappy appraisals next to the domain names that are being auctioned at GoDaddy auctions so I am certainly not happy about this tool. I haven't made some serious testing so far but I tried 5-10 domains. Initial results were a disaster.
I will do some more testing but automatic domain name appraisals is something I never believed in since 2002 when I started domaining. I will need a monster of an algorithm to slightly change my mind and even then I will only use these appraisals for fun.