DAN announced some product updates today, one of which is that you can now import Lease to Own (LTO) transactions with a 10% commission rate.
Here are all the new product updates at DAN:
1. Import LTO transactions
We revamped the process of importing a lead, adding the ability to import a lease to own transaction. From 16 March, you have three initial options; Buy Now (BIN), Make Offer, and Lease to Own (LTO). A detailed form then allows you to import your lead effectively.

2. Auto OPT-IN Afternic listings
Domain names that hold a Buy Now price will be automatically integrated in to the Afternic distribution network, providing better exposure for your domain names.
Prices on the Afternic network will be shown in USD, with Afternic prices being inherited from your Dan.com BIN price.
If you wish to opt out for any reason, you can do so in your account settings.
3. Commission alignment
Alongside our continued product updates, we aligned our commission models effective 1 February with other GoDaddy marketplaces. We now have the following commission rates:
15% commission for domains sold that point to nameservers at Dan.com, Afternic, Uniregistry or GoDaddy Auctions; regardless of where it sells on the network or through the landers directly.
25% commission for domains sold that are not pointed to nameservers at Dan.com, Afternic, Uniregistry or GoDaddy Auctions.
4. Seller dashboard redesign (LTO revenue section)
Sellers with LTO transactions will now be able to track their revenue statistics, thanks to our redesigned LTO dashboard. At a glance, you can track your weekly, monthly, and annual recurring revenue through a simple, familiar graph.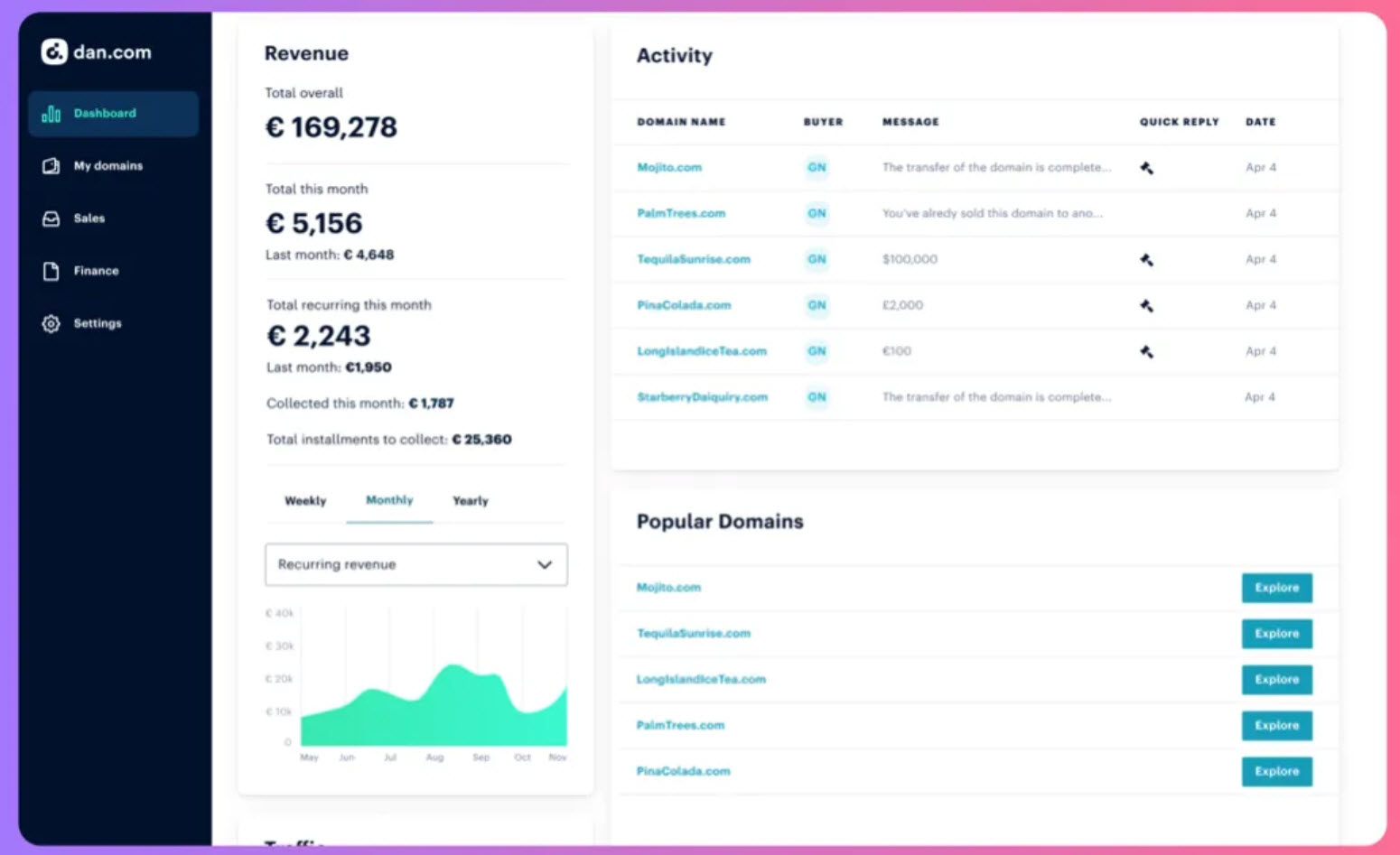 5. Dashboard stats optimization
Stats on your user dashboard are now improved, with more data variables and added consideration for all-time metrics, rather than monthly only statistics.
6. Added support for .kids
While Dan.com provides support for many top-level domains (TLDs), there are some that we're still adding. We've recently implemented support for the .kids TLD.
7. Infrastructure advancements for faster everything
Behind the scenes, we worked hard on-site stabilization. This work includes bug fixes and refactoring. As a result, Dan.com now loads faster, providing an improved user experience. We also noted a decrease in bot traffic reported, along with better conversions.
8. Chinese typography search support
Through our mission to make domain trading available to everyone, we added support for Chinese typography for searches at Dan.com.
9. Restore deleted domains in bulk
The familiar bulk toolbar now allows you to restore domain names that you have deleted in bulk. Head to your deleted domains page to select and restore domain names in bulk.
10. Afternic Distribution Network optimization and faster domain ownership
We implemented some changes to the Afternic Distribution Network listing process to make the process smoother. The domain ownership process is faster, too, with added automation and efficiency.
11. Keep, edit, or remove descriptions
Dan.com users now have better customization of sales page descriptions. Keep, edit, or remove a description for an individual domain name directly from your portfolio page.