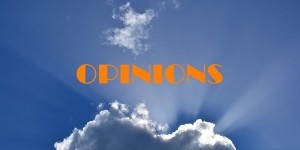 Is 50% of the domaining industry about to be washed away? Rick Schwartz certainly thinks so.
And I agree too. But this has started a year ago. Many of the opportunistic people are long gone by now.

But will domaining go back at the 2013-2014 level or above that or below that? If it goes to that same level then it wouldn't be too bad. I actually think that would be good.
Except that a few people have made a lot of money, a lot of people have lost some money and we have the New gTLDs now.
Domaining grew too fast and without any planning from ICANN or any of the people and businesses that came suddenly into it. All that while Google and Facebook are trying to create their own version of the internet.
A lot of people came into domaining starting with the New gTLDs and then more people came with the influx of Chinese funds in 2015-2016. Then in the past year people have been leaving the industry.
I think the problems started when most of the Chinese money left the domaining market in 2016. And of course when New gTLD renewals started pressuring domainers without any other source of domaining related income. Also domainers that bought the so called liquid domains (3L, 4L, 3-4-5N) at their peak, have now been left with little options.

New gTLD registries have started failing or are losing money from the beginning. (read here about .build) For others like .shop it will be many many years before they get the money they invested back, if ever. That is not good for the industry.
But domaining and the related services have a long way to go and a bright future.
(You can read some more of my comments at the bottom.)
Here are few of the tweets Rick has sent in the past 3 days:
"Top reported #Domains sales 2017 vs 2016. Next 75 days will tell the story. 2017: http://www.dnjournal.com/ytd-sales-charts.htm … … 2016: http://www.dnjournal.com/archive/domainsales/2016/2016-top-100-sales-charts.htm …"
"We're witnessing the BIG SHAKEOUT in #Domaining. A wave of worthless Pigeon Shit #Domains & #Domainers have stunk up entire #Domain market."
"The #Domains shakeout won't be an overnight thing. It is an era of RENEWAL SURVIVAL. Most won't survive. Renewals will bury them. #GTLD"
"There is no #Domainer graveyard. No announcement when they go broke. We just never hear from them again. Make lots of room!! #Domains"
"I have seen WAVES of #Domainers come/go over 22 years. This WAVE is going to be HUGE! 50% of industry or more 2b washed away. #Domains #GTLD"
"We are in the HEART of #Domains SEASON! Every year I can remember October/November has proved to be the month w/ most inquiries and sales."
"I think #Domains industry is about 2 look like a 2-stage rocket. The #GTLD booster and ALL pigeon shit domains about 2 fall from main ship."
"Main reason new #Domainers fail? They listen 2 guys w/ very limited success that diminish success of others based on when started. #Domains"
"So those that think "Law of Supply and Demand" is any different will be set for rude awakening. #Domains #Startups #marketing #GTLD"
"#Domainers r actively leaving the building! 1 by 1 old time & successful investors in #Domains leaving to do other things. #bitcoin #crypto"
"Now that doesn't mean they don't have their portfolios. But they realize it's not the same game & time can be better spent now. #Domains"
"At this point u should have your portfolios finished & polishing up. If not, u would be better off brokering 3rd party #Domains #bitcoin"
"That means if you have a crappy portfolio, you would be better served saving renewals and follow the steps of #RealEstate brokers. #Domains"
"It's hard to imagine the emails I get daily with HORRIBLE HARDSHIPS. They want me to buy their #Domains. They are ALL WORTHLESS!! It's SAD!"
"If you have 1000 #Domains and nobody buys them, DUMP THEM ALL. That's $100k over 10 years. Go buy ONE REAL DOMAIN for $100k and finance it."
"#Diamonds go up in value. Glass not so much! MOST #Domainers STILL don't know difference. Discard 1, keep the other. Tin VS GOLD. #Domains"
"When someone asks for your 3 best #Domains and you stutter and stammer and flail, that's when it's time to re-examine your portfolio."
"It's truly sad/frustrating to see so many waste their $$ on worthless #Domains. I have spent 2 DECADES trying to show why some have value."
"in 1996 I had 2 sustain my #Domains w/ income made from those domains. That was MY starting point. I had 2 build an ENGINE & I KNEW NOTHING!"
"The decision 2 make certain my #Domains were self-sustaining was single most important decision I made. But I could'nt even FTP! Ground ZERO"
Finally here are Rick Schwartz's 4 rules of domaining:
1. Never buy anything other than .com
2. Focus on 2 words. AdjectiveNoun(.)com
3. Aim w/ a RIFLE not SHOTGUN
4. Don't quit day job
Andrew Rosener, said replying to one of Rick Schwartz's tweets:
"Total decoupling of markets. People so confused. I call it cow eyes. They just stare in disbelief unable 2 take action, Top 1% to the moon!"
I think that he is talking about himself being in that 1%. And he should be as premium domains sell like crazy and for good money.
Some more of my comments:
Domain sales at the higher level seem great in 2017. Or just at least just as good as 2016. There might be a problem (or not!) in the number of smaller sales but we need more concrete stats on that. (We especially need stats from GoDaddy but that has stopped for years now…)
I personally made my highest sale ever in 2017 and also made some of my biggest purchases also. I try to keep that scale at 10 to 1.
People need to be careful about renewals. The main point here is that you should always re-evaluate your portfolio. I dropped many New gTLDs saving a lot of money if future renewals. I also count my dropped domains as savings of 10 times the yearly renewal of each domain. And I am dropping domains all the time. At the moment I drop quite a few more than I am buying. But I sure am buying!
Domainers need a steady cash flow and sales are not always steady. So you need to plan ahead. I try to use parking and development so that most if not all of my domains are sustainable.
It is advisable to renew your 10 or 20 of your best domains for as much years as you can. Especially after a good sale. This is what I do anyway…
I too am getting emails with worthless domains but I have been getting them forever so it is a bit hard to distinguish if people are having a harder time now.
Finally, I have to say something about the domain name blogs. I started before New gTLDs and China, in 2012. Then everyone and his dog started a blog. Now we have less domain name blogs than 2012. Some are trying to bury blogs and forums…