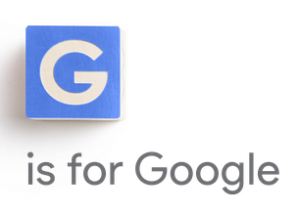 After Google announced that it is creating a new holding company, called Alphabet and the new website is using the domain name abc.xyz I ran a poll asking readers what they thought the domain abc.xyz was sold for.
The domain name abc.xyz was sold by the XYZ registry to Google for an undisclosed amount of money. The domain was sold sometime after the 30th of July, 2015 and before the 4th of August according to domain name whois history.
The domain name was part of the 100 domains that were reserved (according to ICANN rules) by the XYZ registry for its own promotion and usage.
Also, it seems that Google bought the domain name alphabet.xyz for $3,800. An active New gTLD investor, called Dan Yadgar, said in the gtld.link forum that he sold the domain name at DomainNameSales.com last week. He thinks he sold it too cheap because he didn't know it was Google buying the domain name.
I reached out to the XYZ registry with some questions regarding the deal but they told me that they can't comment on this in any way.
Sold.Domains is reporting (in the all time top 10 sales) that 9 New gTLD domain names have been sold for 6 figures or more in the past 1,5 year since the New gTLD program started.
34% of the people, the highest percentage, think that the XYZ registry gave the domain name abc.xyz to Google for free. 18% think that the registry sold the domain for cheap: less than $10,000. Only 9% think that PR marketing was included in the deal.
Here are the results of the poll: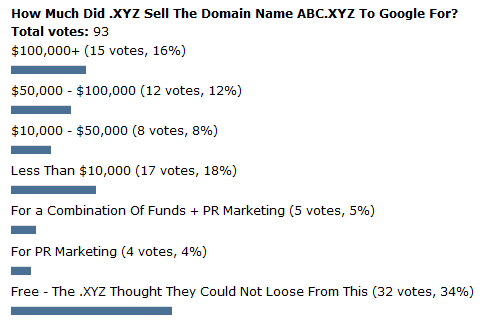 If you missed the Google, Alphabet and abc.xyz articles this past week here is a recap:
Google's New Company Is Using The Domain ABC.XYZ That Was Purchased Just 10 Days Ago
Daniel Negari: "This (ABC.XYZ) is the ultimate validation."
Watch Daniel Negari On Bloomberg TV Talk About ABC.XYZ & Google
Google Registers 78 "Alphabet" & "ABC" Domains 2 Days After The ABC.XYZ Announcement
Google's Launch Of ABC.XYZ Could Mean Everything For New gTLDs
The Domain ABCXYZ.com Was Once Owned By ABC-Disney That Let It Expire!
Google Buys ABC.Club – "ABC" Domain Name Registrations Continue
.Club Challenges .XYZ To A Debate: "what makes a TLD great for domain investors"