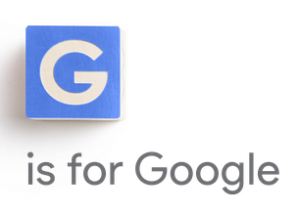 Google continues its Alphabet related domain name shopping spree. It has now registered or purchased close to 100 domain names related to the Alphabet company launch.
Yesterday Google bought the domain name ABC.Club at its brand protection registrar, Mark Monitor. The domain name was sold for an undisclosed price by the .Club registry. Google also bought alphabet.xyz from a domainer for $3,800 and abc.global from the .Global registry.
The sale was announced on Twitter by Colin Campbell: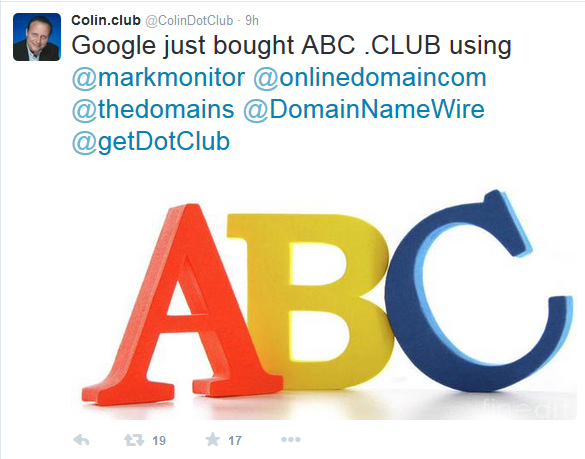 Others continued to buy "abc" related domains even after my last post 4 days ago that featured hundreds of registered domains. Here are a few of the latest domains:
abc.investments
abc.camera
abc.flights
abc.watch
abc.kitchen
abc.run
abc.dog
abc.agency
Some of these domains have very expensive yearly renewals. For example the domain abc.investments has a renewal rate of more than $220 USD per year.
If you missed the Google, Alphabet and abc.xyz articles this past week here is a recap:
Google's New Company Is Using The Domain ABC.XYZ That Was Purchased Just 10 Days Ago
How Much Did .XYZ Sell The Domain Name ABC.XYZ To Google For? (Most people think that Daniel Negari gave the domain name to Google for free. What do you think?)
Daniel Negari: "This (ABC.XYZ) is the ultimate validation."
Watch Daniel Negari On Bloomberg TV Talk About ABC.XYZ & Google
Google Registers 78 "Alphabet" & "ABC" Domains 2 Days After The ABC.XYZ Announcement
Google's Launch Of ABC.XYZ Could Mean Everything For New gTLDs
The Domain ABCXYZ.com Was Once Owned By ABC-Disney That Let It Expire!