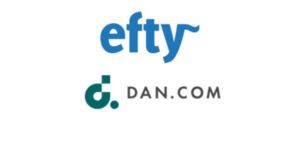 Efty's DAN.COM integration is now live for all Efty users as announced.
Doron Vermaat, Efty Co-Founder & Head of Product, said that the the first successful transaction that was processed through this partnership was the sale of Komodo.ai which sold for $3,995 and was purchased by a Japanese buyer via the NameRockstar.com marketplace (this is Doron's personal, Efty-powered marketplace).
All transactions that are processed through this integration will be processed at a 5% commission.
Here's what Reza Sardeha (CEO of DAN.COM) has to say about the Efty/DAN partnership:
"When we look at which trends are dominating the world but also high-tech, we observe that there is too little cooperation and too much protectionism of own interests across the board. What excites me about this partnership with Efty, is that we can make a stance and proof that collaboration between industry leaders to deliver great value on all ends of the spectrum still has a place in this market and the world. Hopefully, this inspires more cooperation between not only domain industry players but beyond.
We look forward to working with one of the best companies out there. I know for a fact that Doron and Lionel are grinding day in day out to add value to their users and we're proud to work with them"
Doron Vermaat added:
"Our promise at Efty is to help domain name investors sell more domains and pay less commission. Partnering with the great team at DAN.com to bring their automated domain ownership transfer process to Efty is a good example of how we keep working on adding more value to our users and empower them with the right tools to be better domain name investors."
Integrating DAN.COM into your Efty account allows you to display Buy-It-Now buttons on your For-Sale landing pages and/or Efty marketplace sites. Buyers will be redirected to a safe and secure checkout on the DAN.COM website where they can immediately pay for the domain with a wide range of payment methods that include credit card, PayPal, Alipay, Wire and Bitcoin.
All transactions from Efty sellers are processed by DAN.COM at an industry-low commission of 5%.
Efty also offers sellers to setup payments through Escrow.com but also PayPal and Stripe.