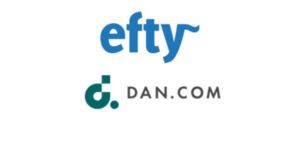 Here is what is coming to Efty in the next few weeks:
Efty.com marketplace 
Ever since the first Efty beta version sellers had been asking if Efty could help bring more exposure for their domains trough a consolidated marketplace. A place where buyers could search for and purchase domains from all Efty sellers combined. The main Efty.com site will soon be undergoing a complete redux into the industry's first commission-free marketplace.
Here's a sneak preview:
Efty + DAN.COM
The launch of the new Efty.com marketplace will make one of the biggest and most premium inventories in the industry available for search (there's an opt-out option for sellers) and allows end-users and investors to negotiate directly with over a thousand portfolio owners and transact directly via Escrow.com or DAN.COM without Efty taking a commission.
Efty sellers will soon be able to add DAN.COM powered Buy-It-Now buttons to their for-sale landing pages and/or marketplace sites and it will be a checkout option on the new Efty.com marketplace alongside Escrow.com
Both companies, Efty and DAN.COM, are headquartered in the Netherlands.
DAN.COM has handled well over $100M in domain name sales since it's inception and support a wide range of payment options for buyers and sellers such as bitcoin.