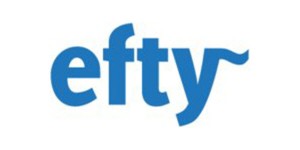 Efty announced today that it has partnered with global payments company Payoneer to add secure, licensed and global domain name transactions to the Efty platform through its escrow services.
To celebrate the launch of this service on Efty, Payoneer is giving away free escrow transactions to Efty users for the entire month of April, 2017.
Lately, Efty has seen an increasing demand for alternative domain escrow services from their users. Efty users now have an option to either use Escrow.com or Payoneer Escrow as their default payment platform.
Click here for a step-by-step guide on how to set up Payoneer Escrow for your Efty account today.

Efty feels that "Payoneer's world-class technology, seasoned team, and competitive pricing are the perfect partner to fill the gap and help us with our core mission to help our users sell more domain names without paying a dollar in commission. Payoneer's global payment capability enables our sellers, who are based all around the world to receive payments quicker, in their local currency and at lower costs than with traditional payment methods."
"Payoneer is a digital payments company that powers cross-border transactions to over 200 countries, in 150 local currencies. Thousands of major internet brands, like Airbnb and Google as well as millions of small business owners such as online sellers in China and service providers in India, rely on Payoneer to power their cross-border payments."
"A deep integration with Payoneer's escrow API enables you to place Buy It Now (BIN) buttons on your For-Sale landing pages and domain name marketplace, which will allow buyers to purchase their domain names with the help of the licensed and secure online escrow payment service. With it's easy to use interface, Payoneer's escrow service is one of the easiest and most secure ways for businesses to pay and get paid online."
This is the Payoneer transaction fees:
| Payment value | Payoneer Escrow Fee |
| --- | --- |
| For payments up to $5,000 | 1.5% of the payment value |
| For payments between $5,000 and $50,000 | $75 + 1% of the amount over $5,000 |
| For payments between $50,000 and $500,000 | $525 + 0.75% of the amount over $50,000 |
| For payments between $500,000 and $1,000,000 | $3,900 + 0.5% of the amount over $500,000 |
| For payments over $1,000,000 | $6,400 + 0.35% of the amount over $1,000,000 |