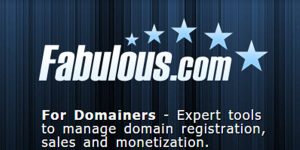 DNC Holdings, dba Directnic.com acquired Fabulous.com back in November.
Mike Robertson is coming back to Fabulous.com after being for over 3 years with Directnic. He was for 9 years at Fabulous before joining Directnic.com
Fabulous.com will continue to run as its own entity and some improvements have been scheduled. The transition to a new Fabulous.com is expected in Q1 of 2018.
All the features and tools you use today will be available, along with some additions including:
24 Hour Support
Phone Support
Live Chat
New Site Design
Improved 2 Factor Authentication
Payment with Digital Currency
41 Day Renewal Period – with no extra fee!
Here are a few of the people behind Fabulous:
Rob Alfonso
Chief Operating Officer
Rob is responsible for the over all operation of our registrar businesses.  Having previously worked for Parked.com and Directnic.com he brings a wealth of domain industry knowledge to the team.
Rob is passionate about providing great tools and experiences for our customers and creating a culture of excellence in his staff.
Michael Robertson
Director, Business Development
Mike has been involved in the domain name industry for over 15 years. He has a comprehensive understanding and knowledge of the entire domain eco-system; specializing in buying, selling, managing and monetizing domain names. Mike will be responsible for high level account management and partner relationships ensuring continued great support, and success for all stakeholders.
Brian Delancey
Director, Customer Service
Brian is responsible for the strategic planning and execution of all Call Center operations. His duties include management and leadership of processes for the continuous improvement of the customer experience.
Mike Clowe
Director, Software Engineering
Mike is responsible for the operation and improvement of the Directnic and Fabulous platforms. He is always striving to make the website as reliable and easy to use as possible.