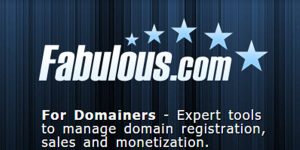 Directnic announced today that it has signed a definitive agreement to acquire domain name registrar Fabulous.com from Dark Blue Sea Pty. Limited. The transaction is expected to close later today.
I was expecting this will happen since I wrote in September about Mike Robertson was returning to Fabulous. Mike's LinkedIn page had not been updated so it was only natural to think that something could be going on. I wondered if that was happening and even emailed Fabulous about it but at the time they did not disclose anything.
"For years, Fabulous and Directnic have been two leading domain registrars each with their own market focus one serving businesses and the other serving domain investors. This acquisition provides a very complementary fit for each business." said Rob Alfonso, Directnics' Chief Operating Officer.
"The acquisition keeps Fabulous customers well valued, well served and creates tremendous opportunities for each business through efficiency and scale."
Mike Robertson, Directnics' Director of Business Development said "I look forward to being part of the Fabulous.com team again. I dedicated close to 9 years growing the Fabulous brand, a brand I still love and am excited to develop further. We have some great things planned for the future. Most of all we are committed to providing our clients with the best service and tools, to ensure the success of their domain name business."