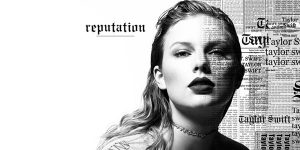 Taylor Swift's new album called Reputation is coming out on November 10. But is Taylor Swift going to have a Reputation (or Reputaytion) tour?
Fans are wondering but a few domain name registration by her team TAS Rights Management (TAS = Taylor Alison Swift) point to a new world tour.
Taylor Swift's official website at TaylorSwift.com went completely blank together with all her social media accounts that were emptied of content this past weekend. Her Facebook page, Twitter account, Instagram account and Tumblr account were all emptied. Some people even suggested that the 27-year-old superstar may have been the victim of a hack. All 4 accounts were emptied, except from the millions of Taylor Swift's followers.
Then on Monday a video of a snake appeared on all TS social media accounts and on Wednesday 3 photos were posted on all TS social media revealing the name of the new album as "Reputation" that comes out on November 10 and also shared that the new single was coming out on Thursday night.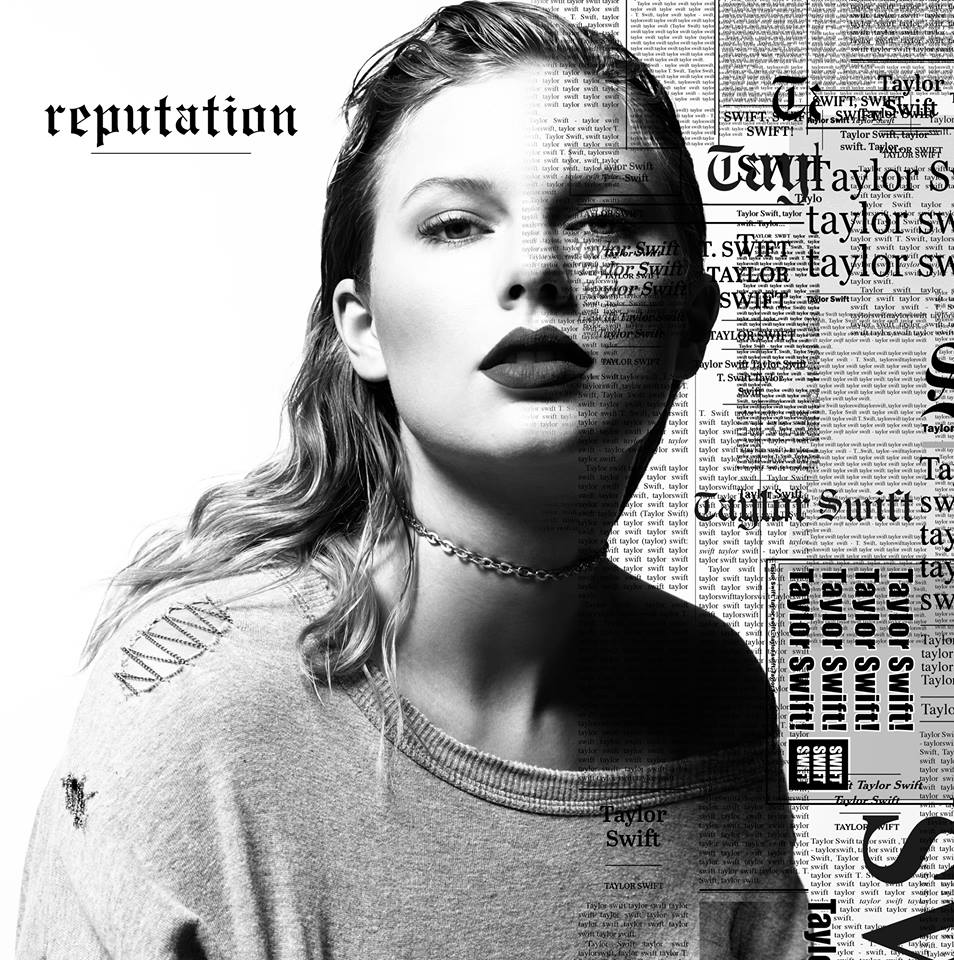 At least 93 domain names were registered on the 23rd of August by TAS before Taylor Swift announced the name of her new album that is coming out on November 10. Her team registered many domain names related to her new album Reputation and also also a lot of ReputaYtion domain names including Reputaytion.com.
But her team missed a few related to a potential tour. They registered at least 40 domains related to tour and tickets.
Not sure what went wrong but TAS registered the domain name reputationworldtour.net yet they didn't buy the .com despite being available. The reputationworldtour.com was left unregistered for about 6 hours before someone registered it together with reputationtour.com.
He/she then build a legitimate looking website using the Reputation Taylor Swift photo, links to her real social media accounts and a countdown. Both domain names pointed to this website.
At the end of the countdown today (Thursday) a music video from YouTube appeared. But it was not a new (or old) Taylor Swift music video. It was a Rick Astley song from 1987 called Never Gonna Give You Up.

The website also wrote "We Love you Taylor! Good Luck With Your Release :)"
Many fans found this website and believed it was real. But they got pranked with a Rick Astley music video and they were upset!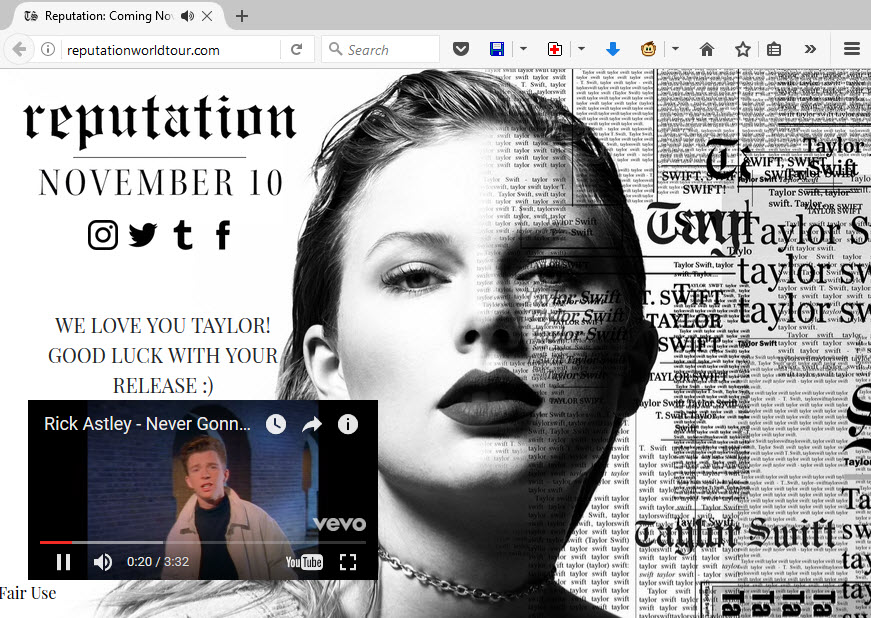 Whoever made the website also has a Fair Use link at the bottom left of the website probably to somehow protect fair use rights.
At the time of writing this article TAS had not bought 2 additional domain names: ReputaytionWorldTour.com and ReputaytionTour.com.
I am not sure how Taylor Swift and her team missed buying these 4 domain names especially since they bought domains like these:
reputationtickets.com
reputaytiontickets.com
reputationtourtickets.com
reputationworldtour.net
BTW, I went ahead and registered ReputaytionWorldTour.com and ReputaytionTour.com because I knew they would be registered in seconds after I had published this article. Taylor Swift can have them for free is she wants to use them or maybe she just thinks Reputaytion.com is enough. I am also emailing TAS about these 2 domains. There is no website on TASRightsManagement.com although they have the domain since 2014 and I have no idea they are checking the one email address I was able to find. Well, it is not difficult to find me if they want to.