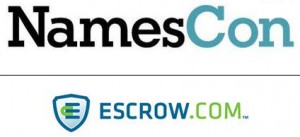 The main Exhibit Hall is open from 10am-6pm daily from Monday through Wednesday.
You can find the NamesCon agenda here at http://namescon.com/agenda/
NamesCon is using sched.org to help keep it all organized for you. Use the sched.org system to remind you of sessions and plan out your conference. Log in with the e-mail address that you used to register for NamesCon. VIEW SCHEDULE.
Here is what is happening today:
The Internet Commerce Association (ICA) has 2 sessions today:
'ICA LIVE' PART 1 – 'Do Domainers Have Any Rights Left?' at 11.45 am
'ICA LIVE' PART 2 – 'Protecting Your Domains from New Hijacking Threats' at 12.20 pm
There is another Donuts .WINE/.VIN Bar today scheduled for 3pm to 6pm. #drunkdomainers
And it is the day of the DOMAIN SHERPA LIVE with at 3.20pm:
Michael Cyger • Shane Cultra • Andrew Rosener • Frank Schilling
In the evening at 7:00pm there is the Women In Domaining (WID) followed by the Waternight Gala at 9:00pm. Don't miss these…
By the way did you hear the news from yesterday?