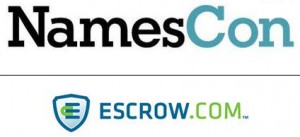 Today is the last day of NamesCon in Las Vegas and the main Exhibit Hall is open from 10am-6pm.
You can find the NamesCon agenda here at http://namescon.com/agenda/
NamesCon is using sched.org to help keep it all organized for you. Use the sched.org system to remind you of sessions and plan out your conference. Log in with the e-mail address that you used to register for NamesCon. VIEW SCHEDULE.
Here is the best of what is happening today:
Keynote Address by GoDaddy's Mike McLaughlin at 10.00am
Keynote Address by Verisign's Mike Pat Kane at 1.45pm
Domain Name Security – Infosec, DNSSEC, Domain Hijacking at 2.15pm
Braden Pollock • Theodore Develegas • Scott McCormick
MasterClass : China Boot Camp – Q&A and General Session at 2.15pm
Simon Cousins • Raymond Li
Keynote Address by Matt Barrie, President, Escrow.com & CEO of Freelancer.com at 16.25pm