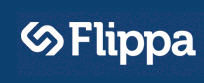 Highest sale this week at Flippa was the domain names HTML5.com that sold for $50,209.
The marketplace posted over $170,000 in transactions over the past couple of weeks.
Post-Auction Negotiation was the method of sale for 10 domains of this week's list.
There were 16 domains that were sold by Buy-It-Now and just rebranded "Flippa Portfolio Section" (previously known as Domain Catalog) had 14 sales this week.

Top Flippa Domain Sales from the past week:
* HTML5.com  @ $50,209  (Editor's Choice)
* Cuz.com  @ $22,000  (Editor's Choice via Buy It Now)
* TYK.com  @ $16,000  (via Buy It Now)
OnlineGifts.com  @ $13,000  (via Domain Holdings Premium Brokerage)
PayV.com  @ $7,850  ($1 Reserve)
VOIP.io  @ $4,750  (via Buy It Now)
SecurityExpert.com  @ $3,999  (via Buy It Now)
* Grapes.org  @ $2,570  (via Buy It Now)
MapCat.com  @ $2,050  (via Flippa Portfolio Section)
* SoftLayerHosting.org  @ $1,800  (via Flippa Portfolio Section)
VEGN.com  @ $1,750  (via Buy It Now)
LightRoomFanatic.com  @ $1,600  (Negotiated Post-Auction)
Yust.com  @ $1,580
USA.io  @ $1,500  (Negotiated Post-Auction)
Researchful.com  @ $1,500  (via Flippa Portfolio Section)
* K.vg  @ $1,399  (via Buy It Now)  //  [Pending Reversal] * SmallBusinessCRM.com  @ $1,200  (via Flippa Portfolio Section)
DoseofFousey.com  @ $1,200  (via Flippa Portfolio Section)
Portfolio of 15 LLLL .COMs  @ $1,176  ($1 Reserve)
* eDrugStore.net  @ $1,122  (via Flippa Portfolio Section)  //  [Pending Reversal] * OEEK.com  @ $1,075  (via Buy It Now)
LVVV.com  @ $1,060
* Tantric.net  @ $1,050
* S.et  @ $1,000  (via Flippa Portfolio Section)
* DiscountPurses.com  @ $1,000  //  [Pending Reversal] VYKI.com  @ $1,000  (Negotiated Post-Auction)
KHZ.net  @ $1,000  (via Flippa Portfolio Section)
* MBQ.net  @ $1,000  (via Flippa Portfolio Section)
* Refuels.com  @ $940  //  [Pending Reversal] * GGLR.com  @ $935  (via Buy It Now)
* Portfolio of 91 Domain Names  @ $855
L5U.com  @ $850  (via Buy It Now)
* EmailBackup.com  @ $825
* 8IJ.com  @ $800  (Negotiated Post-Auction)
* 9SJ.com  @ $800  (Negotiated Post-Auction)
RAHH.com  @ $700  (via Buy It Now)
* IXK.net  @ $665
Vouchers.io  @ $600  (via Buy It Now)
IPJ.net  @ $600  (via Buy It Now)
VNJ.net  @ $600  (Negotiated Post-Auction)
VHY.net  @ $600  (Negotiated Post-Auction)
OXD.net  @ $600  (Negotiated Post-Auction)
VictoryBailbonds.com  @ $575  (via Flippa Portfolio Section)
* USATrademark.com  @ $550  (via Buy It Now)
Hybrids.io  @ $500
* ManufacturedSpending.com  @ $500
UKXO.com  @ $500  (Negotiated Post-Auction)
* Droopla.com  @ $499
NARJ.com  @ $499
* XEON.io  @ $499  (via Buy It Now)
Forex.ly  @ $475  ($1 Reserve)
* GetPartnered.com  @ $455  (via Flippa Portfolio Section)
* DomainName.io  @ $425  (via Buy It Now)
JRKF.com  @ $425  ($1 Reserve)
iStockPicks.com  @ $410  ($1 Reserve)
* LaboratoryTests.com  @ $405  ($1 Reserve)
* NYSiding.com  @ $401  (via Flippa Portfolio Section)
* FlyerBoxes.com  @ $400  (Negotiated Post-Auction)  //  [Pending Reversal]