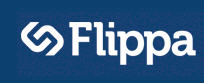 Flippa announced today that it has revealed its new look. Flippa has been working for months to create this new look. It features improved design and navigation.
Flippa's Domains marketplace, now has 1.5m domains for sale and incorporating the Domain Holdings brokerage team into the Flippa fold. In addition to this, the Websites marketplace is now safer than ever before – with new features like Flippa Escrow and Editors' Choice, plus they have a brand new Android apps marketplace.
The new look resolves around has 3 distinct sections:
The homepage also features the Editors' Choice.
Here's more of what you can expect to find on the new pages;
New dedicated homepages for Websites, Domains and Apps – easily jump into the action in the area you're interested in
Key Navigation has been updated so you can easily access your messages, watchlist and dashboard
Editorial content has been added so Flippa can keep you up to date with Flippa tips and new releases
Deal Flow and Domain Holdings for high value websites and domains can now be found on the category pages
In addition to the new look they have also made changes under the hood;
Touch site – improved the touch experience for mobile
Speed – rebuilt pages to load faster
Releases – updated how they release new features, so they can get more site updates out to their users
Here are the stats that Flippa shares today:
7,972 bids this week
1,504,313 open listings
$153,216,518 overall sales
$362,085 sales this week