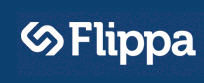 Highest sale this week at Flippa was the domain name Refer.ly that was sold for $4,900.
It was by far Flippa Domains' best overall week, which capped off their best overall month — with over $540,000 worth of domains sold.
Post-Auction Negotiation was the method of sale for 4 domain of this week's list.
There were 9 domains that were sold by Buy-It-Now and just rebranded "Flippa Portfolio Sale" (previously known as Domain Catalog) had 4 sales this week.
Flippa 2014 Review: $2.15 Million In Domain Name Sales
This Is The Buyer Of ShipYourEnemiesGlitter.com For $85,000
Top Flippa Domain Sales from the past week:Due.com  @ $130,000  (Negotiated Post-Auction)
Goliath.com  @ $60,000  (Flippa Premium Brokerage ~ via Buy it Now)
SUVs.com  @ $30,000  (Flippa Premium Brokerage ~ Negotiated Post-Auction)
XFU.com  @ $12,300
MTZ.com  @ $12,000 (Flippa Portfolio Sale)
Customer.org  @ $5,600  ($1 Reserve)
DIYs.com  @ $4,025
Portfolio of 50 Exact-Match .COMs  @ $4,000  (Buy it Now)
BodyAches.com  @ $3,800  ($1 Reserve ~ Editors' Choice)
PriceMatchers.com  @ $2,652
Grammar.ly  @ $2,000
HandyWork.com  @ $2,000  (Buy it Now)
Tabletz.com  @ $1,800
Comic.TV  @ $1,550
Surfboard.net  @ $1,500
Troubleshoots.com  @ $1,250  (Buy it Now)
Calgarian.com  @ $1,050
RogerRamjet.com  @ $1,000
Tabl.et  @ $815  ($1 Reserve)
NSR.net  @ $805  ($1 Reserve)
Sleepful.com  @ $750 (Flippa Portfolio Sale)
NameFilter.com  @ $655  ($1 Reserve)
SmartRecruitment.com  @ $600 (Flippa Portfolio Sale)
Buzzings.com  @ $550  ($1 Reserve)
ArtOfWarCentral.com  @ $550  (Negotiated Post-Auction)
Concussions.org  @ $545  ($1 Reserve)
Tlkr.com  @ $525  (Negotiated Post-Auction)
Yild.com  @ $505  ($1 Reserve)
eInsuranceRates.com  @ $500  (Buy it Now)
OilPrice.io  @ $499  (Negotiated Post-Auction)
CardTournaments.com  @ $499  (Buy it Now)
AmericanPsychics.com  @ $350  (Buy it Now)
BookTicket.net  @ $330  ($1 Reserve)
FullyClothed.com  @ $300
CrunchPost.com  @ $250 (Flippa Portfolio Sale)
Accountant.me  @ $250  (Buy it Now)
iLoveIdea.com  @ $249  (Buy it Now)