I did a review on the new search engine at Search.xxx dedicated to developed .XXX websites and .XXX content only launched by ICM Registry.
ICM Registry, the registry operator of .xxx, announced that Search.xxx got passed 100K unique visitors and 500K searches in the first 24 hours since the launch.
As soon as you make your first search 49 "Quick Search" links/categories appear of the left hand side. I thought about checking whois in order to find out who owns the corresponding domain names to these 49 categories.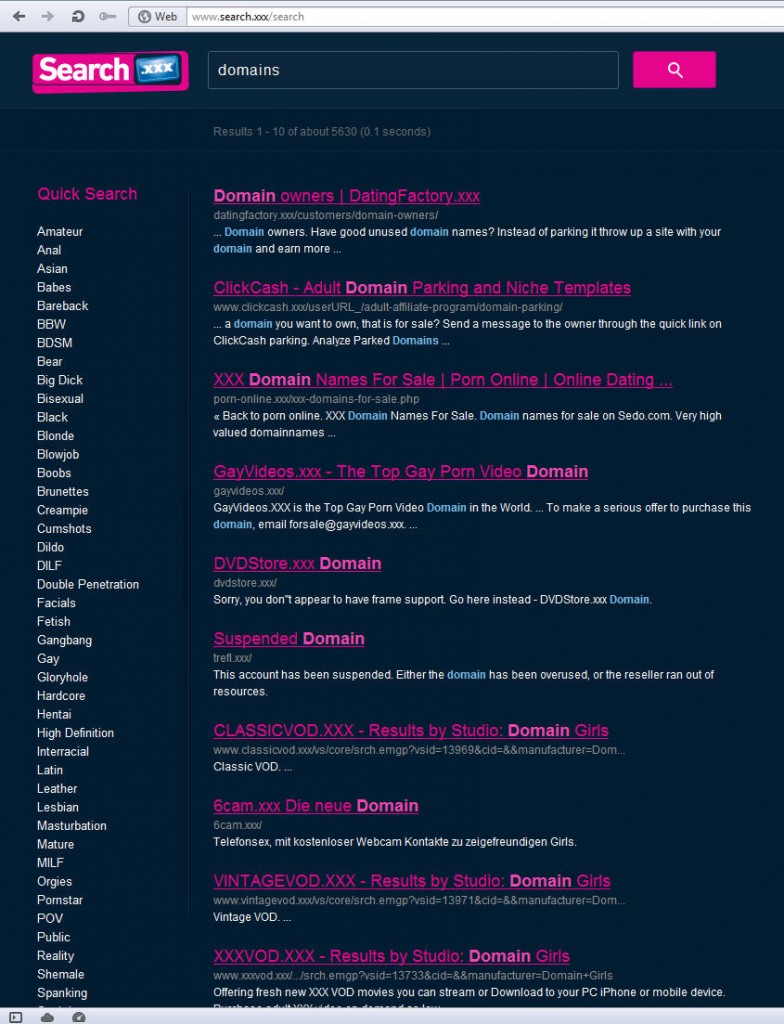 It seems that 30 out of the 49 .xxx domain names are "Reserved by ICM Registry for Premium Generic Domain Names Program". These domains are available at premium prices. Last week ICM Registry secured a $650,000 order for over 40 premium .XXX domains by IRIS SARL, a company based in Luxembourg. The order included hentai.xxx, sluts.xxx, cougars.xxx and many more so you can get an idea on what price you can expect to pay if you want to buy one of 30 premium domains. For more information please contact: premium@icmregistry.com.
Frank Schilling (Name Administration Inc.) owns 8 of the 18 registered domains. e.g. hardcore.xxx, anal.xxx and lesbian.xxx. ThinlineNV Inc., a Panama based company, owns another 3. One of the domains is currently not registered and is available for registration although I am not sure what it means exactly: StraightForGay.XXX.
StraightForGay.com has been registered since 2002. 4 other companies each own a single .xxx domain from the list.  Another 3 .xxx domains are behind privacy but 2 of them most surely are owned by IRIS SARL.
Please see below the complete list. Marked with bold are the domains that are reserved by ICM Registry for the premium generic domain names program.
"Quick Search" links (who owns the .xxx domain name)
Amateur (Name Administration Inc. that also owns Amateurs.xxx)
Anal (Name Administration Inc.)
Asian (Name Administration Inc. that also owns Asians.xxx )
Babes (Behind privacy but most probably onwed by IRIS SARL that didn't buy babe.xxx)
Bareback
BBW
BDSM
Bear
Big Dick
Bisexual
Black
Blonde
Blowjob
Boobs
Brunettes
Creampie (Hyper Village Inc that doesn't own Creampies.xxx)
Cumshots
Dildo (ThinlineNV Inc. that also owns Dildos.xxx)
DILF
Double Penetration
Facials
Fetish (Behind privacy)
Gangbang
Gay (Liberty Media Holdings)
Gloryhole
Hardcore (Name Administration Inc.)
Hentai (Behind privacy but owned by IRIS SARL)
High Definition
Interracial
Latin (Name Administration Inc., Latins.xxx is owned by Worldwide Media Inc.)
Leather
Lesbian (Name Administration Inc. that also owns Lesbians.xxx)
Masturbation
Mature
MILF (Name Administration Inc.)
Orgies
Pornstar
POV
Public
Reality
Shemale (Smy Web. that also owns Shemales.xxx)
Spanking
Squirting
Straight For Gay (available for registration)
Threesome
Toys (ThinlineNV Inc.)
Uncut (C1R Distribution, LLC.)
Vintage (ThinlineNV Inc.)
Webcam (Name Administration Inc. that didn't buy Webcams.xxx)