ICM Registry, the registry operator of .xxx, launched today, September the 27th, a new search engine at Search.xxx dedicated to developed .XXX websites and .XXX content only.
ICM Registry claims to have 21 million pages of .XXX indexed by the new search engine. In an announcement about the new search engine 10 days ago, ICM Registry gave some important guidelines for .xxx webmasters.
And here is my preliminary review:
Search.xxx works like any other search engine. You put in a few keywords, click on the search button and the search results appear. As soon as you make your first search 49 "Quick Search" links appear of the left hand side. I just learned today what a DILF is!!! 🙂 Do you want to know who owns the .xxx domains of the 49 categories featured in Search.xxx? Click here.
But let's see the customization options.
First of all, all visitors to search.xxx are greeted by a landing page that requires all visitors to be at least 18 years of age. The service provides access to adult entertainment content and is not appropriate for minors. Visitors have to click a button that says "I am 18+" in order to enter.
Before you start searching you can choose the dark theme that changes the default white background to a dark blue one which I prefer.
Then you can choose your language. Search results are offered in 19 languages so far. Changing the language doesn't change the "Quick Search" links of the left hand side.
Finally you can choose your sexual preference: Straight or Gay. There is no provision to choose if you are a gay woman or a gay man. Search results are then based on the chosen sexual orientation.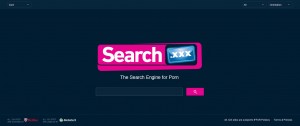 All .XXX websites offered in the search engine are scanned daily for malware by Mcafee and labeled for adult content by Metacert. Also search.xxx is free of all pop ups and pop unders. Search.xxx is mobile optimized and can be easily accessed using a mobile device.
Please note that the .xxx entire extension is blocked in most if not all companies.