DAN created a new domain financing (lease to own) tool that is officially launching today.
According to DAN the new domain financing tool does not need any negotiations between the seller and the buyer, it saves times, sells more domains and generates more recurring and stable income from domain name portfolios.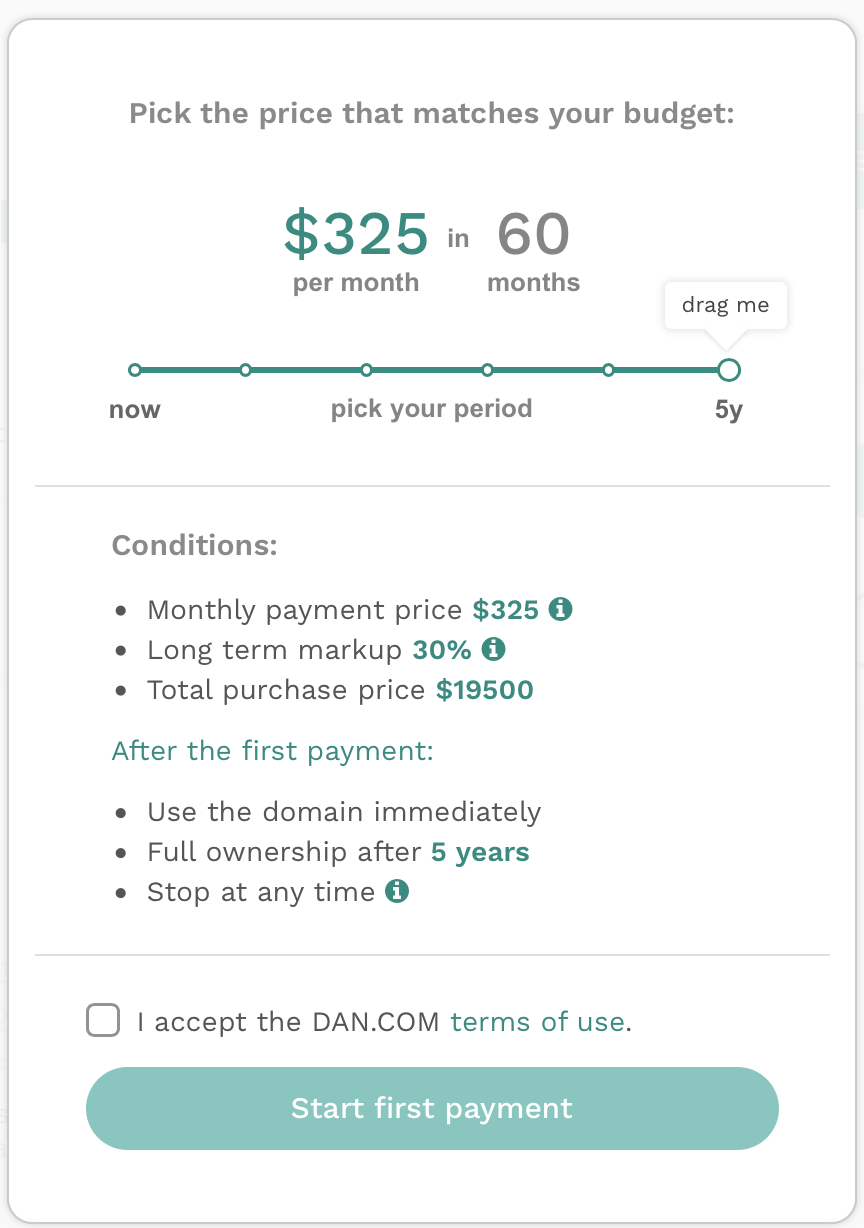 Here are some more details that DAN shared about the new lease to own tool:
Boost your sales and revenue
DAN's new Lease to Own model makes your premium domains instantly affordable to a much broader range of potential end-users.
By increasing the affordability of your domains, you increase your sale through rate significantly and generate not only more but also recurring revenue from your domains.
The beauty of this highly optimized and copyrighted model is that your buyer can use a simple slider to determine which deal terms he or she can afford and accept.
Introducing a new markup model
Our new Lease to Own model also introduces a new markup model which acts as a negative incentive for buyers to not at all times opt for the longest payment plan term available, and make you money in the process.
We implemented the markup to ensure that buyers that can actually afford to purchase the domain at the set BIN continue to do so.
The markup schedule looks like this:
2–12 months = no markup added

13–24 months = 10% markup

25–36 months = 20% markup

37–60 months = 30% markup
The markup is added on the total sale price, and 50% of the markup will be used by DAN to cover for the recurring payment processing fees, domain renewals, providing DNS support to the buyer and keeping the domain in escrow for months if not years. The remaining 50% of the markup is paid out to our sellers monthly.
We highly advise all our sellers to enable our max lease period of 5 years, so you can sell more domains but also generate more income when a buyer chooses a long term domain payment plan.
No more negotiations
Negotiations lead to friction, and friction can quickly turn into a deal breaker. We see this happen on a daily basis, unfortunately.
That's why when you use our new LTO model, you only set a BIN price once. and we take care of the rest. Leaving you with more time to dedicate on other aspects of your domain business.
The new model does not provide the buyer with an option to negotiate about the set price or to submit an offer. When your buyer visits your for sale page, they have all the information & means available to simply proceed and purchase the domain at terms that make sense for to them.
A stable income
Domains that are currently sitting idle in your inventory, waiting for a rare buyer to show up, now are able to generate recurring revenue for you. This allows you to build a more stable and predictable income from your domain portfolio.
Enable the new Lease to Own model in your settings right away!
---
Last but not least
We've also revamped our for sale pages and introduced more details about the seller and DAN.COM to build more trust between you and your buyers. Based on the data we have from your activity at DAN, we'll show the two most positively impactful data we have to increase your sales conversion.
We've also implemented a new feature that adds real-time elements to your for sale pages. When you're logged into your seller account, your for sale pages will show an "Online" status so your buyers know that they can expect a fast response or transaction if they engage now.
---
FAQ:
1: What happens to my currently running installment transactions?
A: Nothing changes for you on that front. Those transactions will continue to run smoothly.
2: Do I pay more commission to use the new model?
A: No, unlike other marketplaces we do not charge up to 30% commission for a domain transaction, let alone an installed transaction which introduces more cost and effort. Our commission is and remains at a rate of just 9%.
3: Can I still use the old installment model, which includes the Make Offer option?
A: Yes you can. However, do note that the old model is limited to 12-month installments max. We've compared the new model extensively with the old and the new model outperforms the old model significantly.
4: What's the maximum installment term for the new model?
A: 60 months / 5 years for now.
5: What's the lowest installment amount offered?
A: At the moment, $99 due to high payment and domain transfer processing fees. As we find more efficient ways to handle "micro" payments, the minimum amount will likely decrease to $10–$20 / month.