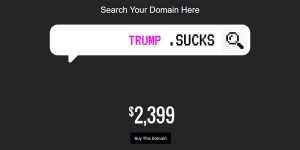 Two days ago 2 "Donald Trump" related .sucks domain names were registered.
The news is not that people think that Donald Trump sucks or that they registered a couple of domain names or that a .sucks domain name extension exists since 2015. Donald Trump domains were very popular around the 2016 elections but these days their popularity has fallen a bit. Nevertheless Trump related domains are registered daily for various reasons.
The news is that the domains were registered at $2,399 28 each and the new owner has put them up for sale.
The two domains that were registered this Monday October 1st 2018 were trump.sucks and donaldtrump.sucks. Both domains were registered at the uniregistrar.com registrar that is owned by uniregisty.com. The whois info of the new owner is not shown publicly because of GDPR regulations. If you visit the registrar whois you can see a few more whois details but the domain names are behind whois privacy that hides the owner's details.
Both domains use "ns1.uniregistrymarket.link" and "ns2.uniregistrymarket.link" as nameservers and are for sale at the Uniregistry Market.
UPDATE: It seems that Uniregistry is running a promotion on premium .sucks domains. Anyone can register one for just $28 for the first year but then the domains renew at $2,399. It is strange that there is no mention of this on the .sucks registry website and domains there are quoted at full price. Also it seems that I can't register a .sucks domain on the Uniregistry app and that GoDaddy is not offering .sucks domains at all. Maybe the promotion has something to do with the strong ties between Uniregistry and the .sucks registry…
So I expect all these domains to drop next year as no sane person will renew these for $2,399 per year.
I have no idea who could be a potential buyer of these 2 domain names. Probably no one. Especially at the price that the new owner purchased these. If the owner bought these to sell then it seems like a bad decision.
You need to offer at least $2,000 to start negotiations for these domains: "The owner of this name suggests an offer of at least $2,000.00 USD for us to be able to start negotiation."
Could it be that the .sucks registry registered these domains so that they can resolve and get more exposure? We will probably never know. Or will we?
How many domains does Donald Trump owns?
Donald Trump owns more than 3,000 domain names including
TrumpEmpire.com
TrumpOrganization.com
TrumpBuilding.com
ImBeingSuedByTheDonald.com
VoteAgainstTrump.com
TrumpFraud.org
TrumpScam.com
and also DonaldTrumpSucks.com
Donald Trump does not own the domain name TrumpSucks.com that was registered in 2000! The domain is forwarding to the Democratic party website at democrats.org.
CNN.sucks domain name
On October 2nd another .sucks domain name with a similar price tag was registered at Uniregistry: CNN.sucks. A domain name of another television network, Fox, is being offered for sale for the premium price of $2,399 $28 also. You can check .sucks domain name availability and pricing at www.get.sucks.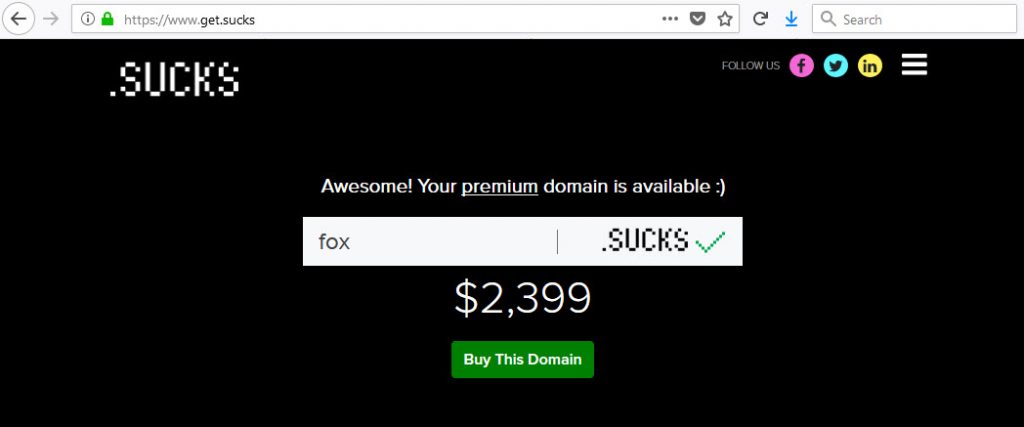 Also it seems that the clues lead us to believe that it is most probable that the new owner of cnn.sucks is the same as the owner of the 2 Donald Trump domains.
Turner Broadcasting System, Inc., the owner of CNN, owns the domain name CNNSucks.com.
Trump.sucks and donaldtrump.sucks history
The 2 domains trump.sucks and donaldtrump.sucks were registered for a couple of years (2015-2017) by a company called This.sucks Inc. from New York. May people have questioned if Vox Populi is behind This.sucks and many think they have found evidence that proves this. (see here and here) Although the domain names This.sucks is still registered there is no website resolving at this URL.
Then the 2 domains were marked as reserved by the .sucks registry and were put on their premium domain name list. Premium domains sell for a price that a lot higher than normal .sucks domain name registrations. Usually a .sucks domain can be registered and renewed for a about $200 to $300 depending on the domain registrar.
Vox Populi priced the 2 (now premium) domains at $2,399 each.
The .sucks new domain name extension by Vox Populi Registry Inc.
The .sucks new extension launched in June 2015 by a registry called Vox Populi Registry Inc. and has now 7,298 registered domains according to Namestat. It seems that most of the these domains are registered by brand protection agencies on behalf of their customers rather than by annoyed customers. The $200-$300 price tag doesn't seem to be targeting complaining customers but rather the companies themselves that want to protect their online brand. So Vox Populi has not received the most favorable critique since it decided to launch the .sucks new extension.
The .sucks registry made millions of dollars from trademark holders that rushed to protect their brands.
Other Trump related .sucks domains
There are 2 earlier registration with "Trump" related .sucks domains: trumpy.sucks and presidenttrump.sucks (404 error).
The domain name DonaldJTrump.sucks is still available to register for $2,399 while Donald.sucks costs "only" $199.