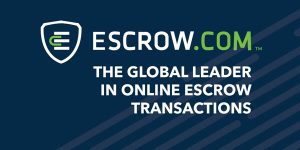 Escrow.com reduced today the minimum domain name escrow transaction fee from $25 to $10.
Jackson Elsegood, General Manager of Escrow.com, said that this was done to make it cheaper and easier to do transactions for domains in the $300 to $700 price range with escrow protection.
Up to now transactions of $769 or less had to pay the minimum $25 escrow fee despite the 3.25% commission percentage. (standard service using a wire transfer)
Credit card and paypal translations will see reduced fees for domain name sold below $396.
Fees for transactions in US Dollars
| Transaction Amount (Merchandise + Shipping) | Standard | Concierge | Express Deposit Fee |
| --- | --- | --- | --- |
| $0-$5,000 | 3.25% ($10.00 minimum) | 6.5% ($100.00 minimum) | Standard or Concierge fee + 3.05% |
| $5,000.01-$25,000 | $162.50 + 0.26% of amount over $5000 | $325 + 0.52% of amount over $5000 | Not available |
| $25,000.01 + | 0.89% | 1.78% | Not available |
Fees for transactions in Euros
| Transaction Amount (Merchandise + Shipping) | Fee | Concierge | Express Deposit Fee |
| --- | --- | --- | --- |
| €0-$5,000 | 3.25% (€10.00 minimum) | 6.5% (€100.00 minimum) | Not available |
| €5,000.01-€25,000 | €162.50 + 0.26% of amount over €5000 | €325 + 0.52% of amount over €5000 | Not available |
| €25,000.01 + | 0.89% | 1.78% | Not available |