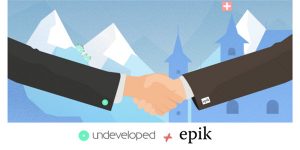 It was announced that Dutch startup Undeveloped.com was acquired by US-based Epik Holdings Inc. to introduce a full-service solution for buying, selling, leasing and managing domains.
The announcement didn't disclose the selling price but that was revealed yesterday in a comment on OnlineDomain.com by Rob Monster, Founder and CEO of Epik Holdings Inc. in response to a reader:
"If you really want to know, the purchase price was 4 million Euros."
That is approximately $4,222,000 USD in today's currency conversion. That is quite a price for a domain name marketplace founded in 2014.
Undeveloped will operate as a wholly owned subsidiary of the Epik Holdings Inc group of Companies executing on its existing roadmap with the current management team.  Epik customers can seamlessly use the services of Undeveloped through the same single-sign-on that already powers Epik's existing services at Epik.com, Anonymize.com and Masterbucks.com.
Undeveloped has already started integrating Epik's core technology directly at Undeveloped to create a more full-service marketplace and go beyond just accommodating buying and selling domains. Starting today, Epik users can sign-in at Undeveloped with their Epik credentials. Undeveloped will soon allow Epik users to import their domains with a single click of the button.
Here's what you can expect from Undeveloped in the coming time:
Deep integration between both Undeveloped's marketplace at Epik as Epik's registrar at undeveloped.
Full-service domain registration, management and monetization suite.
Special commission rates and domain transfer/renewal rates for Undeveloped & Epik customers.
Instant and more secure escrow.
New auction concept that's being developed as we speak.
Fully automated domain renting & leasing options.
A more developed brand marketplace. We'll help you put together complete digital brand packages and assist you with selling them.