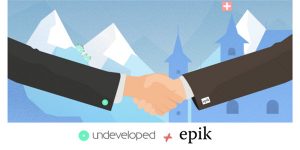 A couple of weeks ago Undeveloped and Epik decided to discontinue working together. In September it was announced that the Undeveloped.com acquisition by Epik was not going to be completed.
Rob Monster, Founder, Chairman and CEO of Epik, said that "Undeveloped remains a business partner. Acquisition-wise, it was not a good fit. For the foreseeable future, customers of both companies were better served by having the businesses remain at arms-length."
Reza Sardeha, founder of Undeveloped, said he could not comment because of an agreement preventing the companies to do so.
On Friday access to your Undeveloped account via the Epik SSO (Single Sign-On) was discontinued. In order to keep your access to your Undeveloped account, please head here to set a new password for your account.
Also on Friday, Undeveloped announced their adoption of blockchain technology and their plan for releasing tokens.