Mike Mann's DomainMarket.com has created a new landing page for its vast portfolio of over 250,000 domain names.
DomainMarket.com doesn't use PPC ads for its domain names. All 250,000 domain names redirect to a a "domain for sale" landing page.
The landing page in pretty simple but it has very interesting and extensive copy.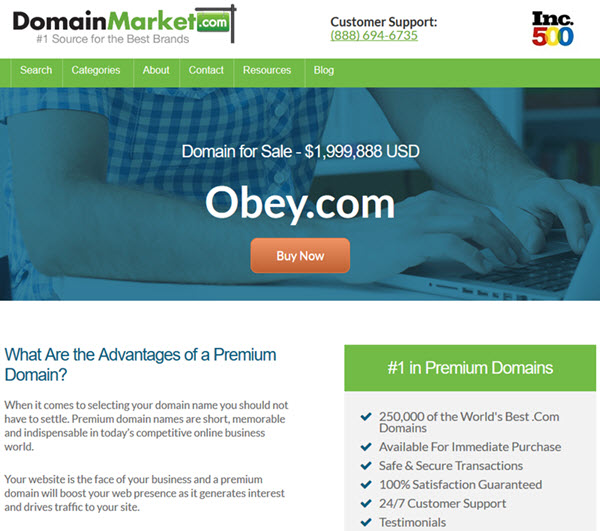 There are some of the most interesting quotes from the new landing page:
What Are the Advantages of a Premium Domain?

IMMEDIATE ONLINE PRESENCE
INCREASED TRAFFIC POTENTIAL
SEARCH ENGINE RANKING
Premium domain names are short, memorable and indispensable in today's competitive online business world.

The average industry sales price is approximately $30,000.

SEO/Search engine traffic opportunity: Historically exact match keywords are rated higher in relevancy for search engine ranking. No advertising or traffic acquisition costs necessary for any web traffic, which is a natural resource owned by the domain name owner.

Instant authority and perceived market credibility, leadership and respect in your market space. This perceived market credibility increases the value of your products and services and drives profits.
Check out a live landing page at obey.com. You can download the entire DomainMarket.com domain portfolio here.