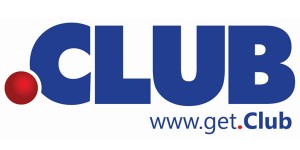 The .Club domain name registry published its March domain name sales report. The .Club registrar channel was supplemented by an domain auction and the two solid direct sales to deliver steady .CLUB premium name sales for the month of March.
The highest individual sale in March was $25,000 for the name Lending.club, purchased by popular financial services brand, Lending Club.. The second registry direct sale was for Startup.club, which sold for $22,500. The .Club registry will continue their "Startup Club" program but move the content to their main website.
The highest sale by a registrar in March was Outlet.club sold by GoDaddy for $2,999.99.
In addition to the WHD.Global auction and direct sales, 10 different registrars contributed to Premium Name Sales total of $80,793.63. This brings the total cumulative premium name sales for .CLUB to $3,710,668.07. Sold.Domains is reporting the the public .club domain name sales were $1,477,084 until last month. The difference is sales volume is attributed to private sales, bulk sales or sales below $1,000 that are not always reported.

The highest single .CLUB sale to date remains Wine.club at $140,000. The top sale from the WHD.Global auction was Hosting.club which sold for approximately $4,503 after conversion from Euro, and which was the highest price sale of the entire WHD.Global auction.
During the month of March 63 premium .Club domains were sold by 12 different sources. 56 names were tiered premium names sold through the registrar channel. 5 names were sold as part of the auction held at the WHD.Global conference and 2 sales were made directly by the registry. The 5 names sold in the first ever WHD.Global auction generated $8,550. The names sold at WHD were Hosting.club, Site.club, Email.club, Webdesign.club and Dutch.club.
During the month of March Chinese Registrars Chengdu West and EJEE led collectively with 24 names sold between the two of them, for a total of $9,592.90. GoDaddy was the top individual registrar with 23 sales totaling $9,619.77. RU Center had 3 sales and NameCheap, Name.com, Open Provider, Instra, FBS, and Key Systems each had 1 sale.
The retail prices paid for the registrar tiered premium sales ranged from $67.46 to $2,999.99. Total premium name sales for the month were $80,793.63.
In March, Chinese Registrars accounted for approximately 12% of all premium name sales. GoDaddy accounted for 12%, the WHD Auction 11% and the registry direct sales accounted for 59% of the month's total.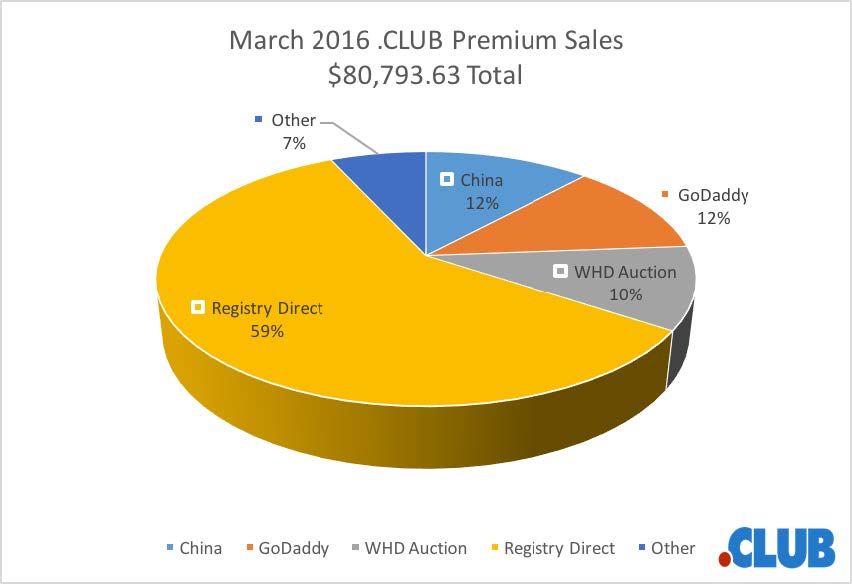 Below are the names sold in March at prices of $1,000 or more, accounting for $66,953.10 or 83% of total March sales. (prices are rounded to the nearest dollar)
| | | |
| --- | --- | --- |
| Domain Name | Retail Price | Sale Source |
| COMMUNICATION.CLUB | $1,000 | Key-Systems, LLC |
| EMAIL.CLUB | $1,311 | WHD Auction |
| BOARD.CLUB | $1,760 | Name.com |
| WEBDESIGN.CLUB | $1,767 | WHD Auction |
| DUB.CLUB | $2,000 | GoDaddy.com, Inc. |
| HENRY.CLUB | $2,000 | GoDaddy.com, Inc. |
| SETS.CLUB | $2,112 | FBS Inc. |
| OUTLET.CLUB | $3,000 | GoDaddy.com, Inc. |
| HOSTING.CLUB | $4,503 | WHD Auction |
| STARTUP.CLUB | $22,500 | Direct Sale |
| LENDING.CLUB | $25,000 | Direct Sale |