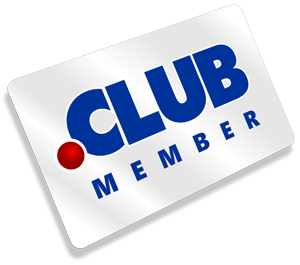 November was a record breaking month for both regular .CLUB registrations and
premium name sales.
It was the registry's first month with more than $1 million in Premium Name sales, with strong deals coming from two auctions, the registrar channel, registry direct
deals (including several portfolio deals) as well as through brokers and the aftermarket.
They began the month with the auction of twenty-five 2-letter names and one 1-letter name
(C.club) on EJEE's EachNic.com platform in China. The fully bi-lingual (English and Chinese) auction was a great success, with all 26 names selling. Results of the auction, as well as a second successful auction on Sedo.com, are presented within this report below.
Total premium name sales for November, from all sources came to a record blasting
$1,622,164.13.
As of November 30, 2015, total cumulative sales of registry reserved premium
.CLUB names came to $2,890,363.40. The highest single sale remains Wine.club at
$140,000.00, however November's blockbuster sales include a 7-figure package deal to a
single Chinese Investor.
.Club introduced their tiered premium names to the registrar channel on July 1, 2015
and the registrar channel continues to be an active source of premium name sales for .CLUB.
The top premium tiers available through the registrar channel are names priced up to
$10,000. Higher value names are available through Sedo.com, Afternic.com, Right of the
Dot, and at Startup.club.
On December 16th, 2015 they will be releasing an additional 13,000 registry reserved names into the registrar channel as tiered premiums, including many never before available names.
This report presents all public registry reserved premium name sales that occurred
during the month of November 2015, including when possible, the domain name, retail
price, and registrar or marketplace where the name was registered. In the case of large
portfolio deals they are not listing all individual names and prices in this report but they do
include the aggregate price paid for the total package(s). They have also included in the total numbers $4,397 from names that have sold on SnapNames in November as part of our dropping domains program.
NOVEMBER 2015 – OVERVIEW
In November, they ended the month with 30 registrars participating in our tiered
premium names program via EPP.
During the month of November,, 326 premium .Club domains were sold. On
the registrar side, GoDaddy led the month with 6 sales, followed by RU Center with 2 sales.
Uniregistrar, eNom and OVH each had 1 sale during the month.
November, 2015
The retail prices paid for the registrar sales ranged from $349.00 to $5,759.68.
Prices in the portfolio deals included many names in the mid 4 and mid 5-figure range. The
average price paid for the registrar sold names was $1,518.01. The average price paid
across all 326 names sold was $4,962.48, an increase of nearly 4% over last month's
average (which was across only 24 names vs. 326 names in November). Total premium
name sales for the month, excluding SnapNames sales, were $1,617,767.13, an increase of 1,311% over October.
Included in above numbers were three names sold directly by the registry, including
the sale of Bowling.club for $9,500. In addition, the names QQ.club, LV.club and HM.club
were sold by Corporate Registrars CSC and Mark Monitor to their brand clients.

PORTFOLIO DEALS
During the month of November a total of 246 names were sold directly to buyers as
package deals, including one package that sold for 7-figures to an individual investor in
China. Package sizes ranged from five domains to several hundred domains. The package deals included some keyword names, as well as N, NN, NNN, L and LL names.

AUCTIONS
In November two auctions were held, the first on EJEE's Eachnic.com Platform in
China. The bi-lingual auction featured 25 two-letter domains and one single letter domain,
C.club. All names were sold, for a total of $189,454. The highest price paid in the auction
was $50,000 for C.club. The highest price for a two-letter name was $9,750 for PC.club.
The lowest price in the auction was $4,800 for MH.club. The average price paid including C.club was $7,286.69. The average price paid just for the 25 two-letter names was $5,578.16.
The second auction of 37 3-number .CLUB names was held on the Sedo.com
platform. All 37 names were sold for a total of $44,727. The highest price paid in the
auction was $5,755 for 555.club. The lowest price in the auction was $169 for 544.club.
The average price paid for the names in the Sedo auction was $1,208.84.

CONCLUSION
While premium name sales through the registrar channel continue to be solid, the
driver for November's enormous growth has been the strong demand for .CLUB names in
China. All but a very few of the names in the two auctions were sold to buyers in China, and all of the portfolio deals were to buyers in China.
Below is the complete list of registry reserved .CLUB names sold through the
registrar tiered premium channel during the month of November 2015.
NOVEMBER 2015 – REGISTRY RESERVED TIERED PREMIUM SALES
Name Retail Price Registrar
TRUNK.CLUB $1,999.99 GoDaddy.com
TAI.CLUB $349.99 GoDaddy.com
CASE.CLUB $5,759.68 RU-CENTER
1234.CLUB $1,548.86 Uniregistrar
MEM.CLUB $349.99 GoDaddy.com
MIR.CLUB $459.65 RU-CENTER
FUT.CLUB $999.99 GoDaddy.com
SHUN.CLUB $349.99 GoDaddy.com
JUN.CLUB $349.99 GoDaddy.com
MAKER.CLUB $2,531.00 eNom, Inc.
GREY.CLUB $1,999.00 OVH SARL
$16,698.13
Below is the list of names and prices sold in the Eachnic.com Auction:
EACHNIC.COM AUCTION NAMES
Name Price
pc.club $9,750.00
c.club $50,000.00
CG.club $5,000.00
DK.club $5,000.00
DS.club $5,751.00
GW.club $5,000.00
GZ.club $5,000.00
HJ.club $5,000.00
JC.club $5,500.00
JD.club $5,250.00
JS.club $5,750.00
KF.club $5,000.00
LY.club $7,751.00
MH.club $4,800.00
PJ.club $5,000.00
PK.club $5,500.00
QC.club $6,050.00
SQ.club $5,251.00
TB.club $5,000.00
YC.club $5,000.00
YM.club $5,250.00
YQ.club $5,000.00
YX.club $5,250.00
ZJ.club $6,001.00
ZQ.club $6,600.00
ZS.club $5,000.00
$189,454.00
Below is the list of names and prices sold in the Sedo.com Auction:
SEDO.COM AUCTION NAMES
Name Price
131.club $310.00
711.club $320.00
166.club $412.00
171.club $339.00
200.club $510.00
251.club $229.00
988.club $1,300.00
544.club $169.00
800.club $1,451.00
211.club $450.00
878.club $726.00
255.club $360.00
120.club $700.00
122.club $329.00
882.club $656.00
181.club $751.00
151.club $1,001.00
177.club $1,310.00
555.club $5,755.00
688.club $3,220.00
112.club $269.00
788.club $1,250.00
806.club $300.00
815.club $300.00
816.club $390.00
864.club $179.00
869.club $385.00
898.club $700.00
666.club $3,600.00
333.club $1,801.00
868.club $1,250.00
858.club $1,105.00
288.club $2,060.00
818.club $2,010.00
121.club $1,250.00
118.club $2,260.00
111.club $5,320.00
$44,727.00