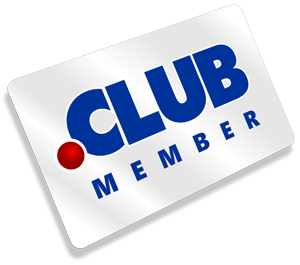 Coming off of the record month of November, in December .CLUB registrations and premium name sales continued to be very strong, closing out the year far ahead of the registry's internal projections.
On December 16th .Club released 13,000 new premium names to the
registrar channel, with many priced at $100 or lower, and these names proved to be extremely popular with several thousand selling on the very first day of availability.
In all, 5,525 premium names were sold in December, including names in a West.cn Auction in China, tiered premium names through our registrar channel and registry direct deals. Sales made through brokers and the aftermarkets that were not fully closed by month end are not included and will be reflected in next month's report.
Total premium name sales for December, from all sources, came to a very strong
$614,071.90. Total premium name sales for Q4 2015 came to $2,350,116.47.
As of December 31, 2015, total cumulative sales of registry reserved premium .CLUB
names came to $3,398,167.27. The highest single sale remains Wine.club at $140,000.00.
The highest sale in December was $58,720.97 for the name 5.club, sold in the West.cn
auction.
.Club introduced the tiered premium names to the registrar channel on July 1, 2015
and the registrar channel continues to be an active source of premium name sales for .CLUB.
In December, several Chinese registrars also began offering the tiered premium names. As noted above, in December .Club added 13,000 additional names to our tiered premium name inventory. As in the past, the top premium tiers available through the registrar
channel are names priced up to $10,000. Higher value names are available through
Sedo.com, Afternic.com, Right of the Dot, and at Startup.club.
This report reflects all public registry reserved premium name sales that occurred
and closed during the month of December 2015. Do to the extraordinary volume of names
sold during the month .Club is not going to list each individual sale.
DECEMBER 2015 – OVERVIEW
In December, .Club ended the month with 34 registrars participating in their tiered
premium names program via EPP.
During the month of December, 5,525 premium .Club domains were sold by 15
different sources. On the registrar side, Chengdu West Dimension Digital Technology Co.,
Ltd. led with 2,697 tiered premium name sales, followed by EJEE with 2,238 sales.
BizCn.com had 368 sales and 101Domain had 117 sales. GoDaddy had 51 sales including December, 2015 the second highest price of the month, Tattoo.club for $9,999.99. Uniregistrar had 14 sales, Name.com had 9 sales, and NameSilo had 4 sales. ComLaude and RU Center each had 2 sales and 1API, DNC Holdings and Wild West Domains each had 1 sale. The registry also sold 1 name directly. Also during the month, 19 names were successfully sold in the West.cn Auction in China, including the month's top price of $58,720.97 for 5.club.
The retail prices paid for the registrar tiered premium sales ranged from $63.86 to
$9,999.99. Total premium name sales for the month were $614,071.90. While a decrease
from November's record-breaking month (which included a 7-figure portfolio deal and 2
auctions), December sales are an increase of nearly 400% over October's then record sales of $125,372.25.
2015 OVERVIEW
2015 represented a tremendous year of growth for .CLUB. Registrations grew by
over 240% from 160,306 at year-end 2014 to 556,204 at December 31, 2015 according to
data from ntldstats.com. While growth was steady the first half of the year, the registry enjoyed a significant boost in November and December as strong demand from China kicked in.
With regard to premium name sales, .Club began the year with a record-breaking
showing at the 2015 NamesCon Right of the Dot Auction where high profile sales included
Wine.club for $140,000, Weed.club for $16,000 and Fight.club for $13,500. For the first half of the year our premium names were available only through the Sedo.com marketplace, Right of the Dot (ROTD), and directly from the Registry.
In July 2015 they launched their tiered premium program for registrars, initially with
an inventory of approximately 8,000 names with suggested retail prices ranging from $100
to $10,000. These names were made available for direct sale by the registrar channel via
EPP and they saw an immediate increase in monthly premium name sales revenue as the
distribution channels expanded, along with continued sales from Sedo, ROTD and directly
by the registry. Based on the success of the initial tiered premium launch, on December 16th we released an additional 13,000 registry reserved names into the tiered premium inventory, December, 2015 including many 3-4 character names and over 7,000 names priced below $100.
They saw immediate demand for the short, lower priced premium names with over 4,000 selling in the first 24 hours of availability.
CONCLUSION
Premium name sales through the registrar channel continue to be solid for .CLUB
names, and the expansion of the tiered premium program to include registrars in China,
such as Chengdu West, EJEE and Bizcn, have helped propel 2015 sales numbers well
beyond the registry's initial internal projections. The demand for NNN, LLL, NNNN and LLLL names has far exceeded expectations and just 2,000 three-character .CLUB names remain available for registration at the time of this writing.
Auctions played an important role in premium name sales for .CLUB, from the
NamesCon Auction in January, to auctions on EJEE, Sedo and West.cn in November and
December. Total auction revenue for the year exceeded $510,000, accounting for
approximately 18% of all premium sales.
There's no question that demand from China for numeric and letter combination
names were the primary driver of the Q4 growth, but in the midst of that activity many
outstanding .CLUB names were also sold by GoDaddy, Name.Com, RU Center and other
registrars.
Below are some examples of non-auction names sold in December at prices of
$1,000 or more.
December, 2015 (Non-Auction Names Sold in Dec for $1,000 or more)
Name Retail Price Registrar
SOBREMESA.CLUB $999.99 Wild West Domains
DAI.CLUB $1,639.14 Chengdu West
2000.CLUB $1,639.14 Chengdu West
NETWORK.CLUB $1,999.99 GoDaddy.com
ICE.CLUB $1,999.99 GoDaddy.com
DSY.CLUB $2,482.42 Chengdu West
HAO.CLUB $2,482.42 Chengdu West
LIGHTHOUSE.CLUB $2,600.00 Registry Direct Sale
80S.CLUB $4,385.06 Name.com
AERO.CLUB $5,759.68 RU-CENTER
TATTOO.CLUB $9,999.99 GoDaddy.com
You can find these and all sold .Club domain names at Sold.Domains. There are now 288 .club domains listed in the database.