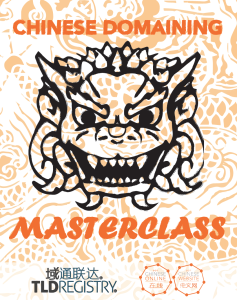 TLD Registry, the registry of Dot Chinese Online (.在线) and Dot Chinese Website (.中文网) top level domains, is releasing the third installment of their Chinese Domaining Masterclass blog series.
TLD Registry presented the world's first, and still currently the world's only Chinese Domaining Masterclass, at the industry-leading domain investing conference, NamesCon 2015. After several months of research, development, writing, and refining, they created a 120-page curriculum for western domain investors to use as a resource to help them confidently invest in Chinese-specific domains, without knowing a single word of Chinese.
I attended the "Chinese Domaining Masterclass" in NamesCon and I wrote a blog post about it: 10 Things I Learned About Chinese Domain Names.
Now, TLD Registry is releasing portions of the acclaimed and sought-after masterclass curriculum to the general public, in the form of a blog series, which will be weekly blog posts focused on providing tips and tricks to help you invest in Chinese IDNs, again, without knowing anything about the Chinese language.
The articles from the blog series are written by TLD Registry's Mitch Watkins.
The first installment was about Chinese numerics, specifically, the number seven. The second one was bout the number three.
Today's topic: "The Number Four (4)"
4: 四, Pinyin: Sì
The number four in Chinese culture is widely known as being a number that carries a negative, superstitious, and relatively gloomy meaning. The number four didn't quite have this negative cultural significance until later on in China's history.

Let me explain why:

In Chinese culture, the pronunciation for "4" (sì) and "死" (sǐ, meaning "to die") are very similar. This coincidence has led the Chinese culture (as it probably would in most any culture!) to become very superstitious about the number four, due to its similarity to death and dying.

To put things into perspective about the superstitious nature of the number four in Chinese culture, it can be compared to the number thirteen in the western world. Many superstitions and urban legends in the western world deem the number thirteen unlucky and negative. Much like the western world's ghost stories and urban legends that promulgate haunted 13th floors, luck-lacking Friday the 13th's, and horror movies depicting the 13th as a day of death, many buildings in the Chinese world don't have a 4th floor for this very same reason. […]
Please read the rest of the very interesting article here.
In the meantime, you can take advantage of the free Chinese domain spinning tool over at ChineseLandrush.com. At ChineseLandrush.com, there are hundreds of free, premium-level Chinese domain suggestions made by real live native Chinese speakers, refreshed often, that are available at normal retail registrar "General Availability" prices.