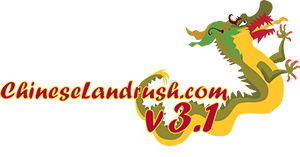 TLD Registry Ltd, the registry of Dot Chinese Online (.在线) and Dot Chinese Website (.中文网) top level domains, will be running a course called Chinese Domaining Masterclass during the NamesCon 2015 conference in Las Vegas next week.
TLD Registry's Chinese Domaining Masterclass will run over all four days of NamesCon, and will be taught by TLD Registry's Simon Cousins and Jin Wang.
The first session of the masterclass is titled "Chinese Domaining Masterclass Main Session.":
This is the main session of the masterclass, which will introduce the culture surrounding the internet in China, as well as introducing and briefly covering several aspects of Chinese IDN domaining. The main session will highlight the investment opportunities that Chinese IDNs have for a western audience, the history and present of Chinese IDNs, the main dialects and writing systems of Chinese, how Chinese text input works (which will include a video presentation), and the challenges and opportunities of Chinese IDN variants. We will also be reviewing the current Chinese IDN TLDs, and teaching you the methodologies of how to spin great Chinese IDNs, which includes an expert-user demo of ChineseLandrush.com.
TLD Registry announced ChineseLandrush.com Version 3.1 in November.
You can also learn Chinese in 10 minutes during this session! Sounds imposible? Sure, but you sure will come away with an amazing insight into how Chinese works, and that alone helps tremendously with making good domain investment decisions. Following the 60-minute session, we will offer a Q&A for anyone that may have additional questions.
This main session offers a solid foundation for learning about the culture of the internet in China, how different aspects of the Chinese language will affect your IDN domaining decisions, and will ultimately prepare you for the other sessions, which are more in-depth regarding the different aspects of Chinese IDN domaining. If you're looking to get valuable insight on the basic facets of Chinese IDN domaining, then this main session is absolutely worth attending.
Remember, these sessions will be held in TLD Registry's own Chinese Domaining Masterclass classroom (Ashton room #2, on the second floor of the Tropicana Hotel) every day of NamesCon, unless listed otherwise. The Chinese Domaining Masterclass classroom has a seat capacity of 48, so we will be holding back 18 of those 48 tickets at the TLD Registry booth for anyone to pick up (on first come, first serve basis) to secure a guaranteed seat. Also, if any 3 out of the 4 sessions are attended, you'll get your own 100-page binder curriculum, which covers everything in the presentation sessions, and more.
Below is the detailed schedule for the "Chinese Domaining Masterclass Main Session" ONLY:
Sunday, January 11
10:15 – 11:15 Chinese Domaining Masterclass 2015 Main Session
13:10 – 14:10 Chinese Domaining Masterclass 2015 Main Session (repeat)
16:40 – 17:40 Chinese Domaining Masterclass 2015 Main Session (repeat; Whoisology room)
Monday, January 12
15:20 – 16:20 Chinese Domaining Masterclass 2015 Main Session
Tuesday, January 13
10:25 – 11:25 Chinese Domaining Masterclass 2015 Main Session
13:20 – 14:20 Chinese Domaining Masterclass 2015 Main Session (repeat)
Wednesday, January 14
10:20 – 11:20 Chinese Domaining Masterclass 2015 Main Session
13:15 – 14:15 Chinese Domaining Masterclass 2015 Main Session (repeat)