Heritage Auctions premium domains auction is today and 9 domains have already met reserve. The domain name 8.co is already at $100,000.
Heritage Auctions holds an exclusive premium domain name auction today, February 9th, at the prestigious Waldorf Astoria Hotel in New York City.
This auction features only 29 premium domain names. (1 domain name was removed from the auction):
DiscountLuxury.com
Boho.com
IGV.com
Frisco.com
MoneyBlog.com
Import.com
NottingHill.com
SIE.com
Luxe.com
8.co
Arts.org
Stock.market
SmartWatches.com
Mouse.com
INZ.com
Corn.com
VMR.com
Quick.com
PXA.com
Future.com
NL.com
Arcade.com
Portfolio of (84) three letter .net domain names
NYC.am and NYC.fm (sold together)
NYC.lawyer
GXM.com
Classic.com
ZIC.com
QDE.com
9 of the domain names listed have already met reserve in the online pre-bidding phase and will sell today:
8.co $100,000
Boho.com $7,500
IGV.com $8,500
MoneyBlog.com $1,000
NottingHill.com $5,000
SIE.com $22,000
NYC.am and NYC.fm (sold together) $4,000
ZIC.com $16,000
QDE.com $7,000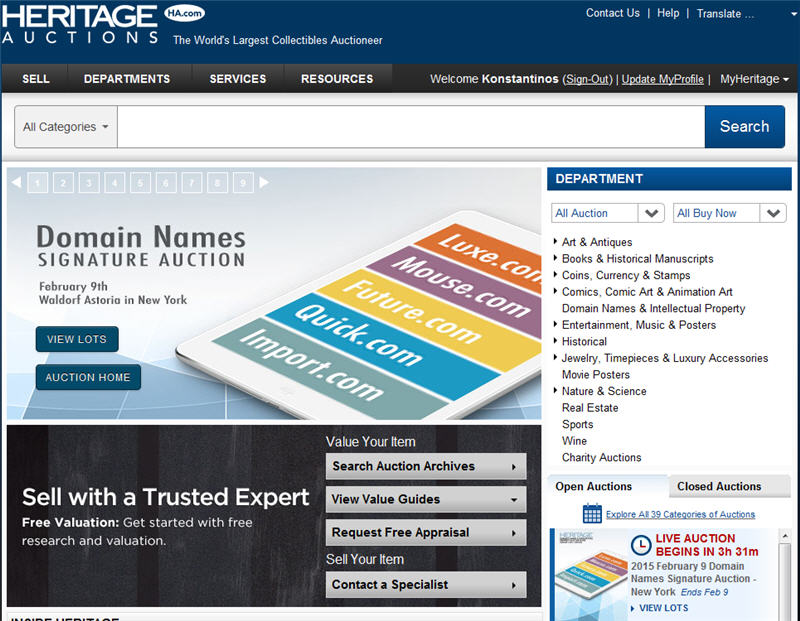 The Waldorf Astoria is located on Park Avenue, just a few blocks from Heritage's NY office.