Uniregistry just launched its new Knowledge Base so that customers can learn about all of the Uniregistry features available, including bulk edit features and more.
One of the most interesting questions on the Knowledge Base is "What domain name extension should I use?". Here is Uniregistry's answer:
The choice of which domain name to use is as exciting as it can be daunting. Often the domain you'd prefer isn't available as it's already owned and in use by another party. The good news is that with the release of new gTLD's, you're not limited to finding a strong brand in .com, .net or one of the other legacy extensions.

The New Land Rush

Check out our domains page to see what new extensions are available.

With new domain extensions, there are now more options than ever to find the perfect fit for your brand or personality. Because the new gTLD's offer branding in themselves, you can begin by finding the right extension and then the perfect domain.

Each of these new extensions offer a unique way to represent you or your company. It doesn't matter why you like what you do, what matters is finding the extension that represents you best.

Aftermarket Domains

If  the domain name that you or your business needs is already owned by another party, we have an award winning brokerage department ready to help you secure the perfect brand.
One other interesting thing I found on the Knowledge Base page is the that you can ask Uniregistry for a custom bulk pricing:
Are you a large portfolio holder considering a switch to Uniregistry?

We're here to help. Speak to a member of our sales team right now to discuss your custom bulk pricing options, and to develop a transfer consolidation strategy.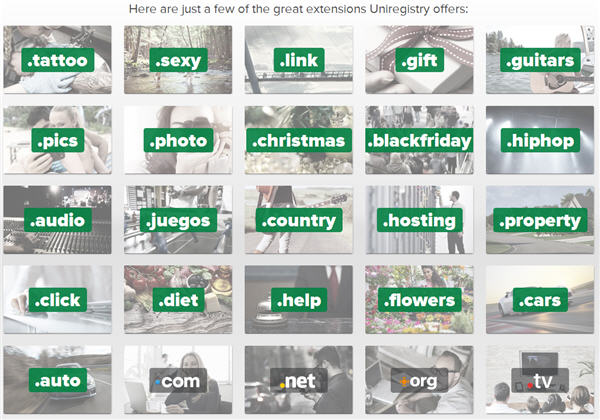 Uniregistry kicked off the new year as the platinum sponsor for the wildly successful NamesCon event in Las Vegas. Uniregistry will now be attending ICANN Singapore February 8 – 12, 2015.