A new website for the Uniregistry registry was launched today at uniregistry.link. Frank Schilling announced the launch on Twitter.
He said that the new website has the "same heart, passion and ambition". He added: "We want to make naming a better experience. Love to all extensions".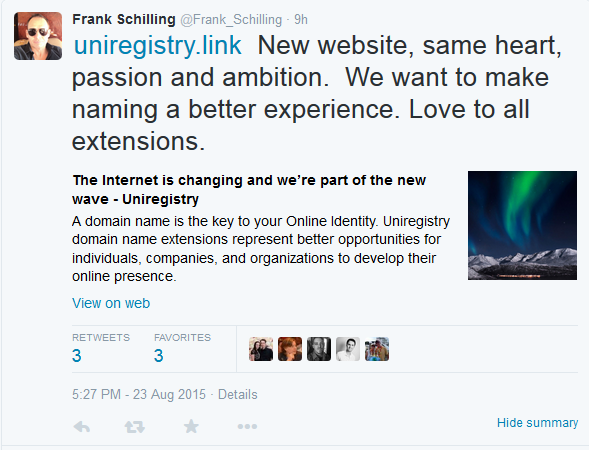 The website features information on all the Uniregistry New gTLD extensions, the launch schedule, the pioneers program and on how to become an official Uniregistry registrar.
Uniregistry is going to jointly run .cars, .car and .auto with the XYZ registry. .Cars and .Auto are coming this November. .Game is set to launch this October.
TLD Launch Schedule
| Extension | Delegation | Sunrise Start | Sunrise End | General Availability | Claims Period End |
| --- | --- | --- | --- | --- | --- |
| .tattoo | 2013-11-11 | 2013-12-11, 14:00 UTC | 2014-02-09, 14:00 UTC | 2014-02-25, 16:00 UTC | 2014-05-26, 16:00 UTC |
| .sexy | 2013-11-08 | 2013-12-11, 14:00 UTC | 2014-02-09, 14:00 UTC | 2014-02-25, 16:00 UTC | 2014-05-26, 16:00 UTC |
| .link | 2014-01-16 | 2014-01-27, 16:00 UTC | 2014-03-28, 16:00 UTC | 2014-04-15, 16:00 UTC | 2014-07-14, 16:00 UTC |
| .gift | 2014-01-16 | 2014-01-27, 16:00 UTC | 2014-03-28, 16:00 UTC | 2014-04-15, 16:00 UTC | 2014-07-14, 16:00 UTC |
| .guitars | 2014-01-16 | 2014-01-27, 16:00 UTC | 2014-03-28, 16:00 UTC | 2014-04-15, 16:00 UTC | 2014-07-14, 16:00 UTC |
| .pics | 2014-01-16 | 2014-01-27, 16:00 UTC | 2014-03-28, 16:00 UTC | 2014-04-15, 16:00 UTC | 2014-07-14, 16:00 UTC |
| .photo | 2014-01-17 | 2014-01-28, 16:00 UTC | 2014-03-29, 16:00 UTC | 2014-04-15, 16:00 UTC | 2014-07-14, 16:00 UTC |
| .christmas | 2014-02-19 | 2014-05-01, 16:00 UTC | 2014-06-30, 16:00 UTC | 2014-07-08, 16:00 UTC | 2014-10-06, 16:00 UTC |
| .blackfriday | 2014-04-18 | 2014-05-01, 16:00 UTC | 2014-06-30, 16:00 UTC | 2014-07-08, 16:00 UTC | 2014-10-06, 16:00 UTC |
| .hiphop | 2014-05-12 | 2014-06-05, 16:00 UTC | 2014-08-19, 16:00 UTC | 2014-09-03, 16:00 UTC | 2014-12-02, 16:00 UTC |
| .juegos | 2014-05-12 | 2014-06-05, 16:00 UTC | 2014-08-19, 16:00 UTC | 2014-09-03, 16:00 UTC | 2014-12-02, 16:00 UTC |
| .audio | 2014-05-12 | 2014-06-05, 16:00 UTC | 2014-08-19, 16:00 UTC | 2014-09-03, 16:00 UTC | 2014-12-02, 16:00 UTC |
| .hosting | 2014-08-15 | 2014-09-03, 16:00 UTC | 2014-11-03, 16:00 UTC | 2014-11-25, 16:00 UTC | 2015-02-23, 16:00 UTC |
| .property | 2014-08-15 | 2014-09-03, 16:00 UTC | 2014-11-03, 16:00 UTC | 2014-11-25, 16:00 UTC | 2015-02-23, 16:00 UTC |
| .diet | 2014-08-15 | 2014-09-03, 16:00 UTC | 2014-11-03, 16:00 UTC | 2014-11-25, 16:00 UTC | 2015-02-23, 16:00 UTC |
| .help | 2014-08-15 | 2014-09-03, 16:00 UTC | 2014-11-03, 16:00 UTC | 2014-11-25, 16:00 UTC | 2015-02-23, 16:00 UTC |
| .click | 2014-08-15 | 2014-09-03, 16:00 UTC | 2014-11-03, 16:00 UTC | 2014-11-25, 16:00 UTC | 2015-02-23, 16:00 UTC |
| .flowers | 2014-12-22 | 2015-01-26, 16:00 UTC | 2015-03-27, 16:00 UTC | 2015-04-07, 16:00 UTC | 2015-07-06, 16:00 UTC |
| .lol | 2015-04-29 | 2015-06-01, 16:00 UTC | 2015-07-31, 16:00 UTC | 2015-08-11, 16:00 UTC | 2015-11-09, 16:00 UTC |
| .game | 2015-07-06 | 2015-08-06, 16:00 UTC | 2015-10-05, 16:00 UTC | 2015-10-07, 16:00 UTC | 2016-01-05, 16:00 UTC |
| .mom | 2015-08-05 | 2015-09-05, 16:00 UTC | 2015-11-04, 16:00 UTC | 2015-11-14, 16:00 UTC | 2016-02-12, 16:00 UTC |
| .cars | 2015-04-29 | 2015-09-10, 16:00 UTC | 2015-11-09, 16:00 UTC | 2015-11-19, 16:00 UTC | 2016-02-17, 16:00 UTC |
| .auto | 2015-04-29 | 2015-09-10, 16:00 UTC | 2015-11-09, 16:00 UTC | 2015-11-19, 16:00 UTC | 2016-02-17, 16:00 UTC |