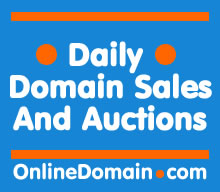 I woke up late yesterday in Las Vegas. I can still feel NamesCon on my body.
I did some shopping therapy today. Now I think I am done with Vegas for a year.
Was Hexonet.net (1API) Hacked? You Should Change Your Password Now!
Top 10 Posts In 2014 At OnlineDomain.com: New gTLDs, .XYZ, Sex.xxx, Uniregistry etc.
Here are the Top 10 New gTLD Domain Name Sales Of 2014.
NamesCon 2015 Auction Sells Almost 1 Million USD Worth Of Domain Names
VEGAS.CLUB Domain Name Sale For $100,000 Announced At NamesCon 2015 In Las Vegas
See here The 13 Most Expensive & Developed New gTLD Domains Of 2014 with screenshots of the websites included in the article.
Click here to see all the old daily domain sale reports.
Here are yesterday's domain sales and auctions from Sedo, Namejet, Snapnames, Go Daddy, Drop Catch and Flippa (please note that a lot of the domain names listed below have not been paid for yet):
Sedo Domain Sales:
deutschesbier.com 3,800 EUR
alertum.com $2,000
medley.com.ar $2,000
testamentvorlage.de 1,100 EUR
bhangshop.com $1,000
Namejet Domain Auctions:
databasehosting.com $1,666
xeye.com $1,515
rallies.com $1,000
Snapnames Domain Auctions:

| | |
| --- | --- |
| moveyourmoneyproject.org | $2,424 |
| anysale.com | $1,625 |
| humangames.com | $1,078 |
| hg851.com | $678 |
| partybusdallas.com | $660 |
| christiananswers.com | $660 |
| dafa588.com | $514 |
| javq.com | $510 |
| korean101.com | $449 |
| resfest.com | $446 |
| quiets.com | $405 |
| socialbusinessone.com | $405 |
| silkyway.com | $393 |
| villageville.com | $363 |
| blues101.org | $355 |
| heavenlygowns.com | $353 |
| 27738.com | $315 |
| moredomains.com | $306 |
| culvercityicerink.com | $305 |
| bchannel.com | $293 |
| lakotafreedom.com | $265 |
| 31179.com | $260 |
| hdcr.com | $257 |
| netsharks.com | $253 |
| freebtcbay.com | $228 |
| p-c.net | $227 |
| vintagefoodie.com | $215 |
| cravecafes.com | $205 |
| coldthemes.com | $193 |
| blightbustersdetroit.com | $185 |
| thegenesisfund.org | $177 |
| mattsfishcamp.com | $171 |
| hardynorthamerica.com | $166 |
| swiftdownloads.com | $166 |
| stlstorytellingfestival.org | $155 |
| kitefart.com | $150 |
| mikebennettgraphics.com | $118 |
| freecustomers.com | $112 |
| bealle.com | $110 |
| lyqx.com | $110 |
| wgbf.com | $107 |
| spectralgroup.com | $105 |
| lptj.com | $105 |
| paypalpoker.net | $105 |
| swissnexshanghai.org | $105 |
| zirla.com | $100 |
| twistbarpa.com | $100 |
| effectiveperl.com | $100 |
| boredclub.com | $90 |
| khyr.com | $90 |
| golfthequarry.com | $85 |
| tropicalhomegarden.com | $84 |
| petmedicationcard.com | $80 |
| esotericbookshop.com | $80 |
| mxei.com | $80 |
| xehh.com | $75 |
| smokycogs.com | $75 |
| 49521.com | $73 |
| rvlistings.net | $65 |
| throwmethestatue.com | $65 |
| aardvarkartglass.net | $65 |
| lpsmobi.com | $62 |
| oldewillowstitchery.com | $62 |
| quinceanerasatsea.com | $60 |
| sxob.com | $55 |
| zoozhop.com | $54 |
| andipetrillo.com | $50 |
| downwithbloatware.net | $47 |
| mariposayosemiteairport.com | $44 |
| reedandbo.com | $42 |
| xffe.com | $37 |
| ft8.org | $35 |
| sketchybunnies.com | $33 |
| iovz.com | $33 |
| vmcomponents.com | $33 |
| afgradio.com | $32 |
| iranianapparel.com | $32 |
| vintagehandyman.com | $32 |
| s-1.net | $32 |
| scandiafood.com | $30 |
| ozcelikevdenevenakliyat.com | $30 |
| signature-inns.com | $27 |
| fiac.net | $27 |
| thejungleoflife.com | $27 |
| liuxueyuke.org | $25 |
| playmusic.net | $22 |
| ifbo.net | $22 |
| arrlmidwestconvention.com | $20 |
| tmru.org | $20 |
| gerbil.info | $20 |
| cvszilla.org | $20 |
| food188.com | $20 |
| securite-solutions.com | $15 |
DropCatch Dropped Auctions:
PickApp.com $3,410
NoCreditLoan.com $855
PenTurners.com $620
YunjiaZhuang.com $353
EuShopHq.com $349
ZombieMustDie.com $288
Eric-WEinstein.net $271
CarHireFlorida.com $241
VulgarE.net $190
TheMurdockMan.com $175
Flippa Domain Auctions:
Newyork-Hotels.net $115