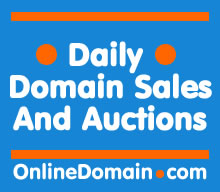 Today is my last day in Vegas. The Tropicana asked me for $239 for a 6pm late checkout. Really Tropicana? You want for 6 hours what I paid in the past 48 hours?  Terrible. Maybe I will try the MGM Grand next year.
ShipYourEnemiesGlitter.com is already At $61,100 @Flippa with 5 days left.
Was Hexonet.net (1API) Hacked? You Should Change Your Password Now!
Top 10 Posts In 2014 At OnlineDomain.com: New gTLDs, .XYZ, Sex.xxx, Uniregistry etc.
Here are the Top 10 New gTLD Domain Name Sales Of 2014.
NamesCon 2015 Auction Sells Almost 1 Million USD Worth Of Domain Names
VEGAS.CLUB Domain Name Sale For $100,000 Announced At NamesCon 2015 In Las Vegas
See here The 13 Most Expensive & Developed New gTLD Domains Of 2014 with screenshots of the websites included in the article.
Click here to see all the old daily domain sale reports.
Here are yesterday's domain sales and auctions from Sedo, Namejet, Snapnames, Go Daddy, Drop Catch and Flippa (please note that a lot of the domain names listed below have not been paid for yet):
Sedo Domain Sales:
tract.co $3,300
usammo.com $2,000
ok.pt 1,550 EUR
Namejet Domain Auctions:
matinee.com $6,500
greatshopping.com $4,366
acsa.com $3,000
webaffiliate.com $2,408
anguish.com $1,500
displacement.com $1,380
rangler.com $415
p9b.com $343
Snapnames Domain Auctions:

| | |
| --- | --- |
| tablets.org | $3,050 |
| greenelectric.com | $2,675 |
| thejerseyshore.com | $2,525 |
| merbivore.com | $2,040 |
| merchaddict.com | $2,000 |
| koreatv.us | $1,525 |
| 80p.com | $1,010 |
| labikeplan.org | $1,000 |
| thanksforsharing.com | $660 |
| youair.com | $552 |
| ayannapressley.com | $455 |
| articlewarehouse.com | $450 |
| clampdown.com | $438 |
| iste2013.org | $405 |
| nanotechnologydevelopment.com | $355 |
| radioshackleopardtrek.com | $345 |
| oneuniform.com | $338 |
| nofunfest.com | $310 |
| 12345proxy.co | $308 |
| perfectcoffees.com | $282 |
| yoiv.com | $280 |
| heroeswallpapers.com | $270 |
| smsineed.com | $251 |
| humboldttourism.com | $250 |
| 506000.com | $216 |
| xvsxp.com | $200 |
| tweetar.com | $200 |
| 04990.com | $156 |
| ableindia.org | $155 |
| lucys215.com | $145 |
| localstreamer.com | $135 |
| comitesnyct.com | $132 |
| zoejenny.com | $126 |
| fmij.com | $125 |
| andersonscountrymarket.net | $125 |
| rockstarrodeo.com | $124 |
| queensnailsgallery.com | $115 |
| lchq.com | $113 |
| laughcomedyclub.com | $111 |
| clubtrillion.com | $106 |
| mlhq.com | $105 |
| digdesignz.net | $105 |
| cutecenter.org | $105 |
| yfsa.net | $105 |
| fvny.com | $104 |
| strawberrystreetmarket.com | $103 |
| seriesdanko.org | $100 |
| softwareonline.org | $99 |
| thecouriertimesnews.com | $95 |
| proactiveitsystems.com | $95 |
| graceconsultinginc.com | $90 |
| beachcombercottages.com | $87 |
| mobilehall.com | $85 |
| opt-in-email-marketing.org | $85 |
| thehumankindnessproject.com | $80 |
| mobiletiresrepairservice.com | $80 |
| 25343.com | $76 |
| sonicmobility.com | $75 |
| stayinthegamect.com | $75 |
| manoneileen.com | $70 |
| evgz.com | $70 |
| realestateoftherockies.com | $70 |
| showcasegems.com | $69 |
| scifacts.com | $69 |
| yiqv.com | $65 |
| fluidicweb.com | $65 |
| drjoneskids.com | $65 |
| redaesthetic.com | $62 |
| cookingeatingdurham.com | $62 |
| webtendency.com | $60 |
| goldmp3.com | $58 |
| paydaylenders.info | $50 |
| zogf.com | $47 |
| hellomagaluf.com | $42 |
| layoffdaily.com | $40 |
| bigcatsinbritain.org | $40 |
| 999hdwallpaper.com | $40 |
| sportingdaily.net | $40 |
| cathedralcamden.org | $36 |
| longviewhorsepark.com | $35 |
| carpetcleaningsites.com | $32 |
| vnkd.com | $32 |
| ha-me.com | $27 |
| williamduff.name | $27 |
| telecomauditors.net | $25 |
| penzion-slavkovsky.com | $25 |
| learnenglishindia.com | $22 |
| firstbaptisthendersonville.com | $22 |
| clarionsuitesak.com | $22 |
| nrosedevelopers.com | $22 |
| gmsvp.com | $17 |
| madprince.com | $15 |
DropCatch Dropped Auctions:
Rossano.com $2,275
FsHouse.com $487
Pavillon-m.com $354
Franet.com $346
DavidMack.net $339
Mxyw.com $231
FlightCams.com $164
Flippa Domain Auctions:
pubs.net $2,000
PrivateDetective.org $805
ListedHouses.com $805
AirfareAnywhere.com $500