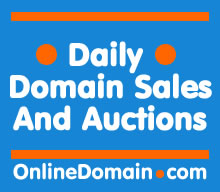 NamesCon 2015 is getting worse by the day! Well, when I say worse I mean way better. But everything is messed up in Las Vegas.
Really, everyone should go to a domain name conference.
I am a bit behind with the sales report but please bare with me…
NamesCon 2015 Auction Sells Almost 1 Million USD Worth Of Domain Names
VEGAS.CLUB Domain Name Sale For $100,000 Announced At NamesCon 2015 In Las Vegas
Only 10% Of All .Guru Domains Have Been Renewed, 1 Month Before Anniversary
Donuts made over $130,000 on Sunrise and the first 5 days of the EAP for .World.
Go Daddy added a new bidder verification process for GoDaddy auctions but I am not sure it is enough.
See here The 13 Most Expensive & Developed New gTLD Domains Of 2014 with screenshots of the websites included in the article.
Here is a poll with over 480 votes so far: "Are You Renewing Your New gTLD Domains?". Looking to reach 500 votes so please vote here:
[cardoza_wp_poll id=7]
Click here to see all the old daily domain sale reports.
Here are yesterday's domain sales and auctions from Sedo, Namejet, Snapnames, Go Daddy, Drop Catch and Flippa (please note that a lot of the domain names listed below have not been paid for yet):
Sedo Domain Sales:
iseeya.com $9,700
marando.com $6,000
emag.ir 2,000 EUR
1888888.com $1,550
Namejet Domain Auctions:
cocainerehab.com $5,100
liquidating.com $4,200
unbelieveable.com $3,900
aggregation.com $3,100
resellerprogram.com $2,300
funeralshop.com $2,200
lotc.com $1,609
losses.com $1,600
japanesediet.com $1,600
collegedebt.com $1,500
greenapparel.com $1,305
oisa.com $1,209
cardmachine.com $555
nnht.com $210
Snapnames Domain Auctions:
I am now banned (waiting for an explanation but I don't think I am getting any, more on this coming soon)

| | |
| --- | --- |
| qingwo.com | $8,300 |
| ecomarket.com | $6,200 |
| egency.com | $3,015 |
| onemillionbones.org | $2,415 |
| rnac.com | $1,375 |
| flexigrid.info | $1,225 |
| partnershipforcaring.org | $1,120 |
| floridacommunitydevelopment.org | $1,000 |
| mcpa.com | $948 |
| europemaps.com | $940 |
| 69298.com | $920 |
| myflooring.com | $610 |
| marweb.net | $610 |
| swifteconomics.com | $607 |
| asiainvestments.com | $600 |
| bankster.com | $487 |
| techsurf.com | $482 |
| ylg77.com | $474 |
| 126999.com | $455 |
| strongname.com | $450 |
| ylg55.com | $441 |
| fullframeimages.com | $400 |
| ylg33.com | $385 |
| chicagomaps.com | $380 |
| centralohioballoonclub.org | $355 |
| glamnails.com | $340 |
| effectsofdiabetes.com | $325 |
| memphisfilmfestival.com | $306 |
| glosslip.com | $305 |
| 23208.com | $301 |
| ylg22.com | $295 |
| ylg11.com | $285 |
| l80l.com | $277 |
| americantreemasters.com | $260 |
| uamaker.org | $231 |
| 627555.com | $225 |
| epitrack.com | $222 |
| sacramentophotography.com | $210 |
| mesothilioma.org | $205 |
| thefittingroom.com | $205 |
| pagoda.net | $204 |
| lszg.com | $200 |
| sumogames.com | $190 |
| therealexorcist.com | $175 |
| oilpainting-shop.com | $175 |
| 47688.com | $157 |
| yourboss.com | $155 |
| fitcityindy.org | $155 |
| visualstoryteller.com | $135 |
| ytgf.com | $125 |
| anei.org | $117 |
| redtrails.com | $116 |
| fireworksfoundation.org | $105 |
| atarisandwiches.com | $105 |
| factorfictionnutritionblog.com | $105 |
| rymc.com | $105 |
| cotejean.com | $87 |
| kesref.org | $81 |
| wexford-bedandbreakfast.com | $80 |
| arvelasul.org | $80 |
| ashleybroder.com | $80 |
| wpurology.com | $72 |
| 84851.com | $71 |
| klasshat.com | $70 |
| dalclubofindy.org | $65 |
| 75384.com | $60 |
| anonnow.com | $57 |
| 9013.cc | $55 |
| anonworks.com | $46 |
| cheapcheapdomainnames.com | $45 |
| freecosthost.com | $42 |
| 1001cgstories.org | $40 |
| 8726.cc | $35 |
| barcode-label-maker.com | $25 |
| profit-academy.com | $25 |
| romance-cafe.com | $22 |
| iyev.com | $22 |
| moneydots.com | $20 |
| fbleadchef.org | $20 |
| savigraphics.com | $15 |
Flippa Domain Auctions:
Designer.io  $3,000
flashings.com $611