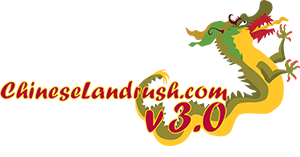 TLD Registry, the registry of Dot Chinese Online (.在线) and Dot Chinese Website (.中文网), has updated their New gTLD tool at ChineseLandrush.com that helps non-Chinese speakers to understand and invest in Chinese domains.
At ChineseLandrush.com, visitors always find 500 hand-made domain name suggestions. ChineseLandrush.com Version 3.0 features direct checkout of bulk registrations with selected registrar partners. You can watch a video with the changes here:

TLD Registry and ChineseLandrush.com websites have now implemented SSL protection. By adding SSL protection and site authentication via Thawte, visits to these websites are safe and secure.
TLD Registry also launched its brand new, fully developed in-house WHOIS search tool. TLD Registry's version of the WHOIS service differs from many other WHOIS services because it fully supports Unicode, and is not case-sensitive with ASCII input.
The first 3 videos from ChineseLandrush.com are available here.