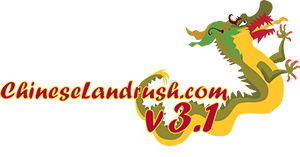 TLD Registry, the registry of Dot Chinese Online (.在线) and Dot Chinese Website (.中文网), has made further improvements to their New gTLD tool located at ChineseLandrush.com that helps non-Chinese speakers to understand and invest in Chinese domains.
At ChineseLandrush.com, visitors always find 500 hand-made domain name suggestions.
ChineseLandrush.com version 3.1 comes with a brand new feature, as well as a bug fix.
The new feature allows domainers to submit your own lists of domain names (in English), and have them directly translated by ChineseLandrush.com China experts, in-house.
The bug fix has also cleared up unnecessary hassles. In the previous version, some ChineseLandrush name suggestions were registry-reserved, but now, with version 3.1, ChineseLandrush automatically checks against all registry-reserved names, and will not display matches.
You can watch a video with the 3.0 version changes here and the first 3 videos from ChineseLandrush.com are available here.