DomainNameSales.com, the popular parking and sales platform, just added a "Firm" price option when a seller sends a quote of a counter-offer to a buyer.
I was replying to some inquiries today when I noticed the extra option on the left of the selling price when I tried to check the "Record Price" option: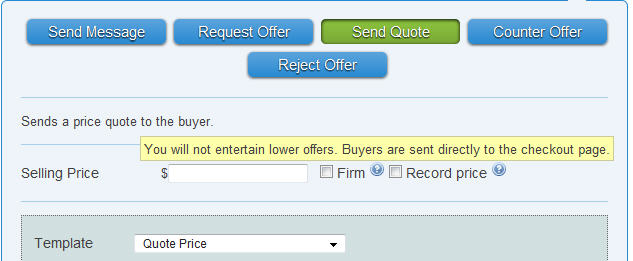 Actually I would prefer if it was put on the right side and "Record Price" option returns to it's previous position. I am sure that a lot of users, including me, will be confused at first. And a few may check it thinking it is the "Record Price" option.
Anyway, the "Firm" option means that the price you are quoting to the buyer is firm and that you will not entertain lower offers. Buyers are then sent directly to the checkout page where they have to decide to buy or not. I hope then can still send a message.
This is a useful option but I wouldn't use it on the first quote but rather later in the negotiations.
It's also good to know that DNS keeps improving day by day. Good job.