I can confirm that some DomainNameSales.com emails are caught by spam filters. Sure it depends on individual settings and the the service that each buyer is using but it is happening. I don't know how widespread this is but I do know that Gmail is putting some emails coming from @DomainNameSales.com in the spam folder.
I have been using the DomainNameSales.com platform since November 2012 but transferred the bulk of my domains to the platform in June 2013.
All this time I have made some very good sales through the platform and a couple using the DomainNameSales.com brokers but I always had this notion that a few of my quotes went unanswered because the potential buyers never got my email reply. That is especially true for buyers that I believed to be serious and had a genuine interest in my domain names. Theo run a rest a couple of months back and found that email were delivered ok but I am sure that localized gmail and outlook versions have different spam filters and together with the individual settings there is a great difference in every account.
I had a buyer today from Russia that told be that my email (that goes out through the DomainNameSales.com system and has a @DomainNameSales.com email address) was caught by his Gmail spam filter.
If an email reply is caught in a spam filter you have no way of knowing except from calling the buyer. That is the buyer has entered a phone number. But I try not to call a buyer when I don't get a reply because I assume that he/she is not interested and I want to respect their privacy. Especially since I can never be sure about their time zone and if the phone number is from home, work or a cell phone.
So how do I know this time? Well the buyer contact me through the lander DomainNameSales.com webpage but he also send me a text message to the cell phone number I have listed on the webpage after the lander. I send him a text message a few hours after I send the email and didn't get a reply. He seemed to be truly interested and was from a close time zone. I asked him if he got my email and he said no. I asked him to check his gmail spam folder and needless to say within minutes I had a reply.
So I am trying to reduce the percentage of this happening again. How? I went to DomainNameSales.com "My Sales Profile" section and added this in the Title:
"If you don't get a reply within 48 hours please check your spam folder for an email from @DomainNameSales.com. You can also text us any time at:"
I have my cell phone number listed below that so there is an extra direct communication option. The "Title" goes directly below my name and company name.
So when the potential buyer goes through the initial inquiry form they will see this at the bottom of their screen: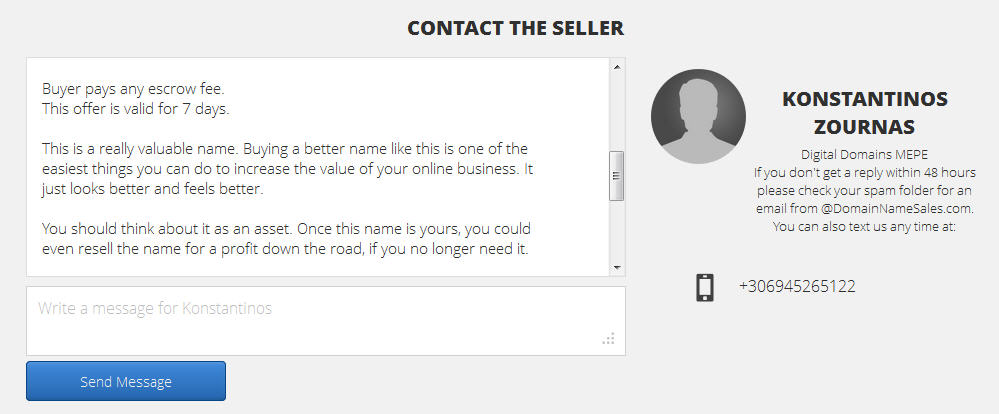 Now I need to go through all my inquiries that went unanswered and maybe call or email from my email address some of the leads that seem to be genuine. Of course domain name sales are case sensitive so I have probably lost most of the older potential buyers. I am not sure if DomainNameSales.com can do something about this. Maybe contact some of the large email providers such as gmail.com and outlook.com and ask for a default whitelist? Not sure if that will work.