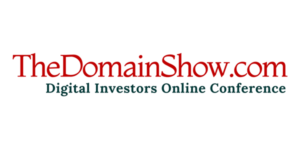 The Domain Show, an online domain name and digital assets trade show by Page Howe, launches today and will last 3 days.
The digital investors online conference will run from July 23rd until July 25th 2020 and promises that attendees will learn more about domain names, domain investing and will share and meet with others in the domain name industry.
There are 31 experts that promise to share their years of knowledge, strategies and tactics.
The speaker line-up includes:
Mike Mann
David Castello
Braden Pollock
Reza Sardeha
Tommy Butler
Jothan Frakes
Ari Goldberger
Page Howe
Morgan Linton
Jeff Sass
among others.
The show is free although there are some paid tickets that will let you enjoy the content for much longer.
"Be a better domain name and digital asset owner, investor, collector or industry participant."
Don't miss on day 1:
Ninja and The Mann
July 23, 2020, 9:00 pm
Mike Mann & Bill Sweetman
Phone.com, DomainMarket.com and SEO.com & Name Ninja
The New Normal
July 24, 2020, 1:00 am
Jeff Sass
Chief Marketing Officer, Entrepreneur, Author, Early Adopter, Teller of Stories…, .Club