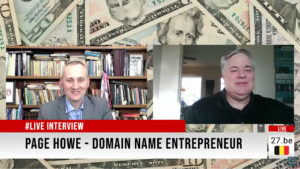 Helmuts Meskonis from 27.be did a live interview with Page Howe on YouTube.
I enjoyed the interview. It is always interesting and quite informative to listen to Page.
Here is the video interview:
From the YouTube description:
Page Howe is a domain investor who buys and sell domain names. Page has applied for New Tld's as far back as 2002, started a registry company in 2001 and placed two sales on the all time top domains sold list back in 2007 and 2008. Besides his million dollar plus sales, Page has sold over 5000 names for upwards of $5,000,000.
Top sales: Page sold Seniors.com, which he purchased for $100,000, for $1.8 million (or $1.5 million after commission). A few months later, he sold Guy.com for $1 million. He had only owned the domain for about a month.
Page is also a Consultant, Educator, Speaker and Blogger.
Besides his portfolio of 5-6000 domain names, Page runs the Local Marketing for the .LA namespace, a cctld repurposed for use in Los Angeles, the #1 Global City for Style, Movies, Trends, Fashion, Music and Real Estate.
Page produces the blog and video content at DN.BIZ, and promotes TopCoin, the loyalty crypto token for websites and domainers. Lastly, Page promotes the concept of emoji domains, the worlds only global, color, visual and emotional domains. Emoji domains are the world most popular language on billions of smartphones globally.
Page truly believes in the concept of domains names as investments and power a good domain name can bring to any website or business. And for investors, wants to help promote a happy, healthy domain industry; and successful starts for new domain investors globally.
Page splits his time between Los Angels and Tennessee.