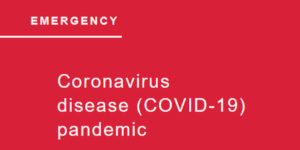 The Coronavirus pandemic has affected almost everyone in the world one way or another. A friend send me an email telling he is in self-quarantine, he can't practice his main profession and is using this time to adjust his domain name pricing.
I am actually working harder than ever writing this blog, taking care of domain name renewals and deciding what domains to drop, doing video editing for projects fallen behind, updating some of my websites, etc.
Last but not least is the work I am doing building websites for clients that have found that this downtime is good for reorganizing, collecting material to better built their websites, and maybe finding new ways to attract new clients and keep a steady cash flow. I am just finishing up on 3 new websites and I have another 2 websites lined up for development in the next 2 months.
I have been watching what is happening online with more and more people working from home and many businesses adjusting so as to overcome this Coronavirus pandemic. Here are a few great examples of what I have seen happening already.
Zach Sass
Jeff Sass, CMO at .CLUB Domains and author of  ToxicAvenger.marketing, shared on LinkedIn how his son Zach Sass, an executive chef, was just laid off last week due to COVID-19 restaurant closings.
Zach now offers custom cooking lessons via video chat, all based on the ingredients you already have at home. This is the website they just built: www.chefzachsass.com.

GoDaddy
Godaddy's Covid-19 small business support website, Open We Stand, has resources, inspiration and connection to other everyday entrepreneurs with creative solutions to keep their business open, even if their doors are closed due to COVID-19. Right now, a different way of doing business is needed to stay open and keep the community safe. Here's how some businesses are doing precisely that.
Ahana Yoga:
In the Miami Design District, a yoga studio goes virtual, offering online classes and outdoor pop-ups.
GG Brows:
Atlanta master aesthetician and entrepreneur GG Green takes her salon services virtual with online classes.
GoDaddy has also compiled important external resources to help businesses stay open.
WPML
WPML, a WordPress multilingual plugin I use for all my websites, also shared how some businesses are adapting:
Restaurants: from seating to take-away
Being in the restaurants business is tough these days. Many restaurants were barely profitable until now and today they're going out of business.
In my street, there are two restaurants that have adapted. All tables are folded, waiting for better times. But the kitchen is working overtime. Instead of seating people, they are offering take-away and deliveries. They can also offer significant discounts, because eating at home costs the restaurant a lot less than taking up a table for an hour.
Museums: from physical visitors to online exhibitions
Museums are closing all over the world. But people still need a break from home and still want to live a little. So, museums are quickly transforming to online exhibitions. We already support clients who are doing new integrations with streaming services that offer exactly this.
More e-commerce and delivery everywhere
Of course, when you can't physically travel, the best way to get what you need is online. So we are already seeing an explosion in e-commerce integration work.
New York City Restaurants (Cellars.nyc)
The COVID19 outbreak is devastating for New York City restaurants but you can buy to-go alcohol and wine to help weather this crisis at Cellars.nyc. Interesting use for a New gTLD even if it is just a redirection to a .com: coastapp.com/takeoutcovid/nyc/.
Takeout COVID is a service where you can order food, cocktails, wine, and beer for delivery or take-out and keep your local favorites in business.
"The COVID-19 outbreak is devastating local restaurants and bars who can no longer seat patrons. Many of them have thousands of dollars of inventory sitting in their fridges, cellars, and bars, which is at risk of going to waste.
By ordering takeout and delivery, you can help support your favorite businesses and their hardworking teams during this challenging time. Many municipalities have even temporarily allowed the takeout and delivery of certain alcoholic beverages. Order food, cocktails, wine, and beer to-go and keep your local favorites in business!"
The #COVID19 outbreak is devastating #NYC #restaurants, but you can buy to-go alcohol and wine to help weather this crisis. Find out where: https://t.co/OjrpOTjQPQ pic.twitter.com/oZ4Ngoe11J
— .nyc (@dotnyc) March 23, 2020
What are you doing for your business?
Please share what you are doing for your business or what you have noticed other businesses doing.