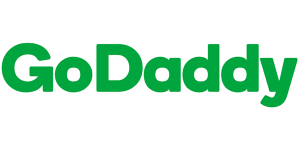 GoDaddy, the most popular and biggest domain name registrar in the world, is once again the target of scammers and possibly hackers.
There is a new fake android app on Google Play called "GoDaddy Dashboard : Website, Domain Name, Email". This app was not created by GoDaddy but from a company called Million Solutions LLP from India.
The app was first released on April 28, 2019 and is now at version 1.1.5 that was updated in June 8, 2019.
The app seems to simply be GoDaddy's website GoDaddy.com on an app built-in browser. (It is possibly using a browser API that is already on your phone like Chrome.) Practically it offers nothing more than if you accessed GoDaddy.com through your mobile browser. You get no extra functionality except of course for the ads! The app constantly displays an ad at the bottom. Indeed some users have complained that the ad is sometimes so big that they lose some of the website functionality.
The big problem are not the ads. This app is very dangerous as you are entering your login credentials (login and password) in the app that it could be transmitting them to the company in India.
So the app users that are currently more than 10,000 could be victims of hacking. And hacking is so easy in this case as you simply give the hackers your credentials. You can't really see if the login page is actually GoDaddy.com or some other webpage that is setup by the app creator. It could be that that all they want is the ad revenue but you never know.
And of course by having your GoDaddy credentials the hackers can easily steal your domain names from GoDaddy.
Million Solutions LLP
Below you can find the full description of the app on Google Play that seems a bit fishy to me as it says "Buy & Configure Godaddy Products with us and get a chance to win $1,000 Google Ads Credit or win bumper prize of $100 hard cash for first 10,000 winners.":
"Manage GoDaddy Account/Products :
✓ Domain Name
✓ Web hosting
✓ VPS
✓ Websites Builder
✓ SSL
✓ Email
✓ GoDaddy Pro Dashboard
Buy & Configure Godaddy Products with us and get a chance to win $1,000 Google Ads Credit or win bumper prize of $100 hard cash for first 10,000 winners.
GoDaddy makes registering Domain Names fast, simple, and affordable. Find out why so many business owners chose GoDaddy to be their Domain Name Registrar."
There is also a note on Google Play saying "This app is developed & managed by Million Solutions LLP".
Million Solutions LLP is a company from India using the domain name and website millionsllp.com and claims to be "India's Leading Cloud Software Company".
The company address given on Google Play is 44, Chandrlok Society, Vyara, Dist.Tapi, Gujarat-394650, India.
BTW the domain name millionsllp.com is registered at Wild West Domains, LLC that is a GoDaddy owned registrar.
Whois of the domain name has this address:
Registrant Name: Mitul Patel
Registrant Organization:
Registrant Street: B 4, Ratna Raj,Vesu
Registrant City: Surat
Registrant State/Province: Gujarat
Registrant Postal Code: 395007
Registrant Country: IN
Registrant Phone: +91.9537966250
Why on Google Play?
The app is only available on Google Play and not on the Apple iTunes App Store. It might be that Apple has more strict rules on releasing apps.
There was another fake GoDaddy app in late 2017.
The thing is that this app "GoDaddy Dashboard : Website, Domain Name, Email" is not the only one released by Million Solutions LLP for Android on Google Play.
They have an app called "GoDaddy Inbox for Professional Email" where users complain that doesn't work.
Here are a couple of reviews:
"This app is not working.I cannot login in. Waste of time."
"I have the same problem than one person below. I just cannot log in. I type my email address and my password (both correct) and nothing happens. there is not even a message that the log in failed or something. it just brings me back to the sign in page without showing my emails."
They also have an app called "HostGator Dashboard : Website, Domain Name, Email". Users also complain.
Here are a couple of reviews for the HostGator App:
"Login doesn't work through mobile app. I tried to login after installation today but credentials didn't work. I thought that I forgot my password so reset it and tried login but no luck. At the same time, It works in browser in laptop. People who tried this already might be through Google account but I'm a registered user of hostgator so I guess hostgator user database is DOWN or this app isn't contacting user database of hostgator."
"NOT from hostgator. Should be removed."
They finally have an app called "MS TV : Netflix, Prime Video, Hotstar : Movies,TV". Users complain as well.
There also seem to be a few fake reviews giving all the apps 5 stars while the majority of the reviewers on Google App give the apps 1 star and a lot of complaints.
Why is this happening?
Well of course there are a lot of scammers around the world that either aim to earn some money from ads or hack your GoDaddy account and steal your domain names. Domain theft is a serious issue and many valuable domains are being stolen every year.
But what makes it easier for scammers in this situation is that GoDaddy does not have an official app on Google Play. It actually had an app but at some point around late 2017 they stopped developing it and removed it from Google Play.
At this point I have to point out that GoDaddy has an app on Google Play called "GoDaddy Investor" but that is a very specialized app that can only be used for bidding on domain name auctions. You can't use this app to access your GoDaddy account and control panel to register or renew domains or to manage your hosting package.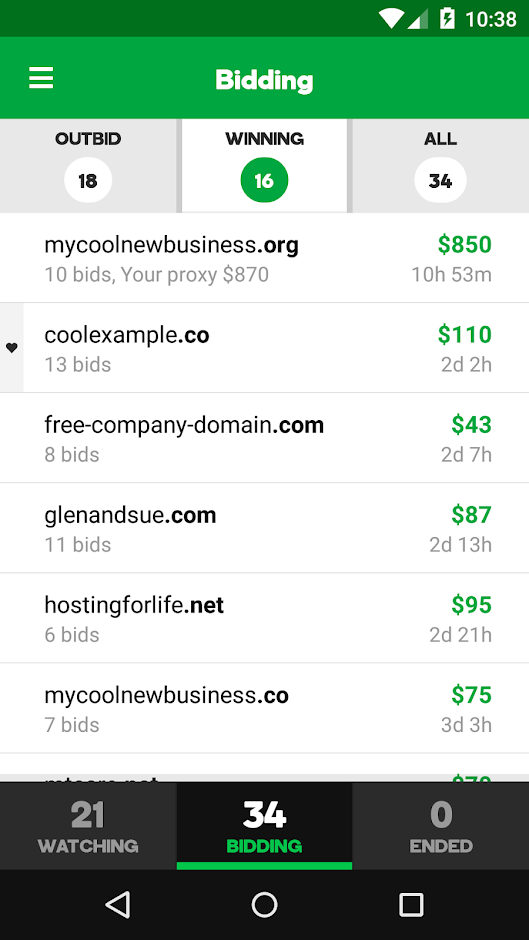 Actually a lot of people looking for the official GoDaddy app are downloading "GoDaddy investor" and think this it is a fake app! GoDaddy Investor was launched in early 2016. Here is how to use GoDaddy Investor.
Yes, it is GoDaddy that is allowing this mess and exposing its users to hackers. I don't think there is a similar sized technology company without an Android app. And it is GoDaddy that is not scanning Google play for fake apps.
And all this is happening while the official GoDaddy app on Apple App Store is alive and well and constantly updated. I don't know exactly what is going on at GoDaddy but the company seems to be mismanaged on many levels.