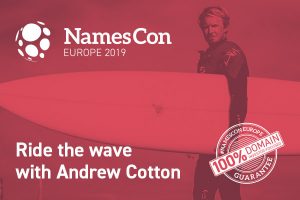 NamesCon announced today their first keynote speaker for NamesCon Europe 2019: professional big wave surfer Andrew Cotton.
"Andrew has built a life and career out of embracing the awesome power of the ocean. As one of the world's most respected pro surfers, he travels the globe hunting some of the biggest and heaviest waves Mother Nature can throw at us, such as Peahi in Hawaii, Mavericks in California, and The Right in Western Australia. His journey has been one of triumph, heartbreak, and even back-break, and he has come out of it with hard-won wisdom for physical and mental resilience, branding, entrepreneurship, and motivating the people around him."
"Join us in beautiful Cascais, Portugal andlearn from Andrew how to confront and become one with forces that may seem insurmountable, and how to bounce back from what may feel like total failure."
"NamesCon Europe runs June 20-22 at the Pestana Citadela Cascais, overlooking the majestic ocean. Come ride the wave with us!"
10 days ago NamesCon Europe 2019 announced the topics of the expert panels.