The Cloudflare domain name registrar was announced in September. They launched the registrar by making it available in waves to its existing customers.
So now the Cloudflare Registrar is available to all customers. The Cloudflare registrar charges you at wholesale prices.
The problem is that still after 3 months there is no way to register a new domain name. Yes, that is right. It is a registrar where you can't register domains!
For the time being you can only transfer existing domain names from other registrars. And from what I heard you can't transfer premium new gtlds, only regular priced ones.
This is one of the registrars that I won't even touch. Same with the Google registrar.
As part of this announcement, Cloudflare shared some insights and data about "domain registration" (they mean what domains are transferred in) that they learned during the early access period that I think it was the only interesting thing of the announcement.
First of all they shared stats that 62% of domain transfers are expedited, i.e. registrants don't wait for the 5 days but manually approve transfers the losing registrar:
Users do not want to wait for transfers

When you begin a domain transfer to Cloudflare, we ask that you input an auth code that your current registrar provides and that is unique to each domain that you transfer. We use that auth code to send your request to the registry, who manages all domain names for given TLD. The registry confirms that the code is valid and then tells your current registrar to release the domain.

Once your current registrar receives that request, you have two options: manually approve the transfer or wait five days. If you wait five days and do nothing, the transfer will complete. While that might feel easier, we've been surprised to see that 62% of transfers were completed by manual approval.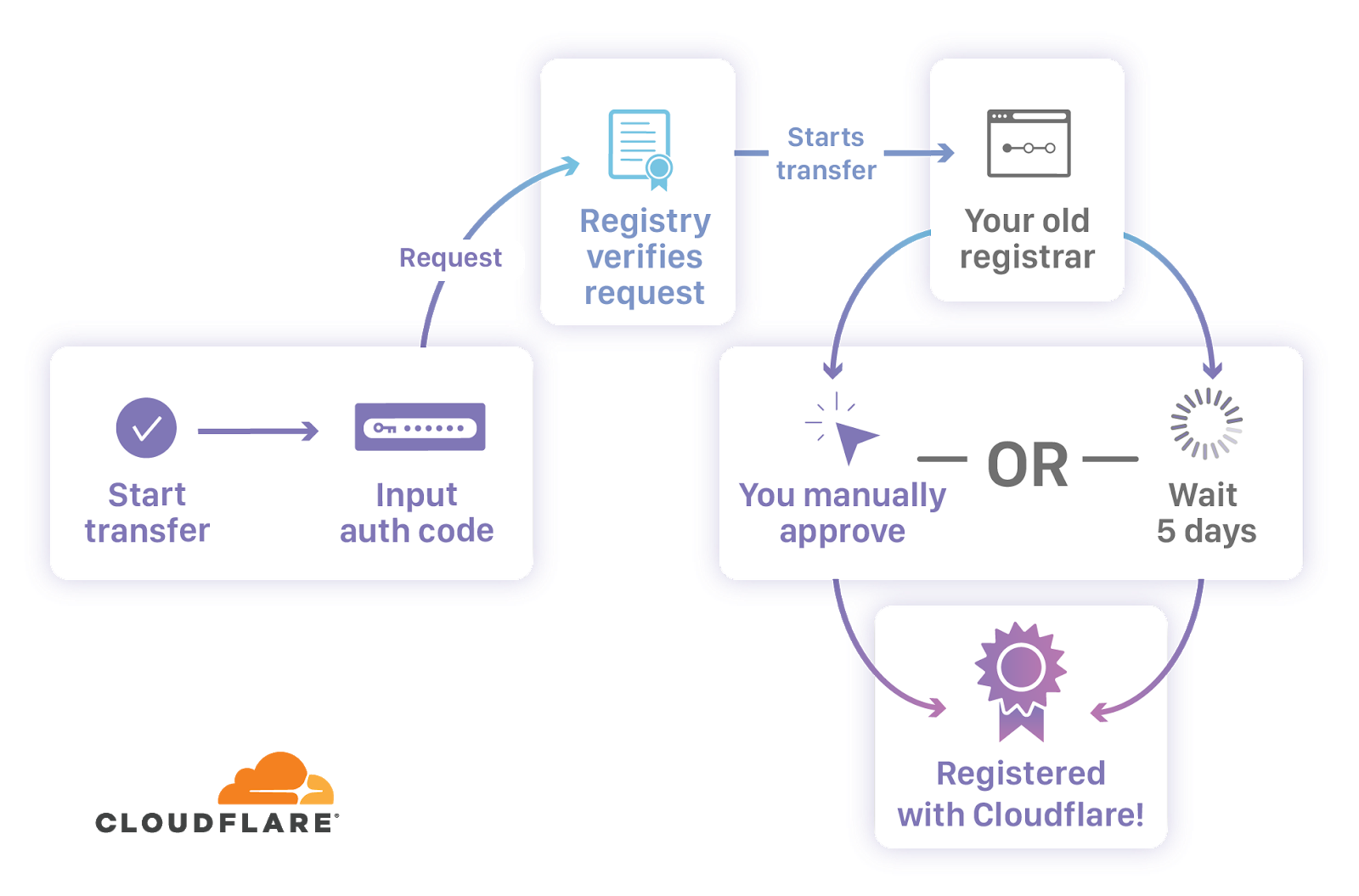 It comes as no surprise that the legacy extensions are still dominant but it still interesting to get validation from a new registrar:
gTLDs continue to dominate registrations

Historically, domains used either country-code TLDs (ccTLDs) or generic TLDs (gTLDs). The generic ones include the 4 extensions behind the world's most popular domains: .com, .net, .org and .info. In 2005, ICANN began considering adding new top-level domain extensions. In 2012, ICANN started accepting applications from registries, current and prospective, who wanted to manage TLDs. They received 1,930.

Of those 1,930 applications, 1,232 became supported extensions and were classified as new gTLDs (ngTLDs). Today, Cloudflare Registrar supports all 4 legacy gTLDs, 1 ccTLD and 241 ngTLDs. gTLDs continue to represent the vast majority of domains registered with Cloudflare. That distribution is consistent with trends in the domain name industry. We expect that to change a bit as we expand into more ccTLDs.
Cloudflare engineering team own over 2% of all active .horse domains in the world and use them for internal testing projects!!! What?
A world of TLDs and we want to support them

2,081 different TLDs are represented on Cloudflare and use our authoritative DNS. I imagine that number has grown in the time it took to publish this post. We support 246 TLDs on Registrar today. We know that many of you have domains you want to transfer that use TLDs we do not support currently, particularly amongst ccTLDs. From massive ccTLDs like .uk, to more obscure ngTLDs like .boutique, we've received a lot of requests to expand the list. For a reason I don't understand yet, members of the Cloudflare engineering team own over 2% of all active .horse domains in the world and use them for internal testing projects. We're working on that one, too, so we can make this page built on Workers return a Yes.

We're working on it. Most ccTLDs require a unique accreditation and validation flow. We're working every day to add to that list of supported TLDs, starting with the largest ones on Cloudflare.