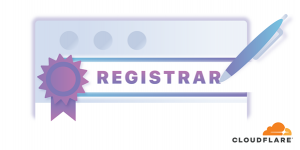 Cloudflare is launching a domain name Registrar that according to the company "lets you securely register and manage your domain names with transparent, no-markup pricing that eliminates surprise renewal fees and hidden add-on charges."
The registrar will offer wholesale prices for all domain name registrations and renewals as well as some other common registrar features.
This is not the first registrar to offer wholesale pricing. I have been using the DomainCostClub.com for a few months now and they are very good. The Domain Cost Club charges you with a yearly subscription costing $99 but that is a small fee to pay to get wholesale pricing if you have 100+ domains.
Cloudflare was asked about whois privacy and said: "We actually didn't talk about WHOIS Privacy because it's becoming less and less of a relevant feature in the post-GDPR world. We do support it, free of charge."
Key Features of the Cloudflare registrar
Support for .com, .net, and hundreds of other TLDs
Two-factor authentication
Multi-user support
WHOIS management
Automatic domain renewal
Registrar Locking
DNSSEC (free)
Bulk Domain Transfers
Developer-friendly API
Transparent pricing
Pay wholesale price for all registrations and renewals
No inflated domain name registration renewal fees
Additional add-on services NOT required.
Security-focused provider
Trusted by over 10 million domains
Prioritized backend security features
Security-focused customer support
Cloudflare integrations
Native DNS, CDN, and SSL services
Advanced security and performance products
Secure domain name management features
Custom Domain Protection for Enterprise
Custom Domain Protection, a Cloudflare Registrar feature available on the Enterprise Plan, is the highest level of registrar security. It protects your organization from domain hijacking with high-touch, on and offline verification of any changes to your Registrar account. Cloudflare is an ICANN accredited registrar providing secure domain registration for high-profile domains.
Transparent pricing for registration and renewal
Domain name registration is dominated by companies offering large discounts on the initial domain name purchase and then later surprising customers with incremental add-on fees and inflated renewal costs.
Cloudflare Registrar will only ever charge you what we pay to the registry for your domain. No markup and no surprise fees. Security features like two-factor authentication, multi-user support, and a security-focused customer support team gives you peace of mind that your domain is safe.
Get early access
You can sign up now and they will email you when the Early Access program officially opens. I did and I am in wave 8 in late November. I will try it but I don't think I will be using it though.