DigitalTown, Inc. (OTC:DGTW) provided a condensed update on the status of the SmartWeb initiative and the start of Blockchain tokenization of the Company's domain name portfolio.
In May 2017, DigitalTown launched an initiative called SmartWeb "to make an Internet that is more intuitive, personalized and secure through the use of the new descriptive domain name extensions. Developed in cooperation with selected ICANN-accredited registries, each network of descriptive domain names is paired with an intuitive software platform that is connected through one single login that works across the entire network using a unified SmartWallet for managing shared services such as identity, preferences and payments. Each platform is designed to support Blockchain-based shared ownership and shared governance."
From the update you can see below it seems that DigitalTown owns a little over 100,000 New gTLD domain names:
13,742 .CITY domains
3,441 .LAW domains
5,464 .FASHION domains
5,699 .FIT domains
5,830 .WEDDING domains
13,713 .WORK domains
2,000 .BAYERN domains
16,978 .BOSTON domains
27,465 .LONDON domains
5,494 .MIAMI domains
1,000 .NRW domains
(100,826 domains in total)
There must be other domain names except these above at NTLD Stats says that DigitalTown owns more than 135,000 domains. DigitalTown is the only registrant outside of China in the top 10 New gTLD owners.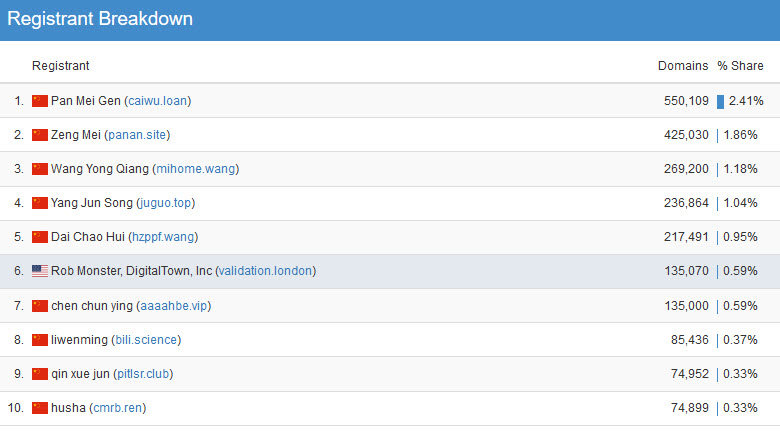 DigitalTown explained how their domain name portfolio got so big: "DigitalTown's domain portfolios were acquired on exceptionally favorable terms due to combination of the (1) the size of the portfolio acquisitions, (2) DigitalTown's operating plan, and (3) strategic relationships with the registry operators. In December 2017, Minds and Machines (LSE:MMX), who operates a number of the most promising domain extensions, made a strategic investment in DigitalTown in order to accelerate market development of these domain networks as industry standards, e.g. LAW for the Legal profession."
Here are all the details of the SmartWeb initiative:
.CITY Network
The .CITY network is the flagship of DigitalTown. The company currently controls 13,742 development-grade .CITY domains that map to major population centers around the world. The DigitalTown City platform provides a web-based SmartSearch engine where residents and visitors search, connect, share and shop local. The web platform integrates with mobile applications for iOS and Android that can be branded in the identity of each city. Austin.city will be featured at the South by Southwest (SXSW) festival starting March 9 in Austin, Texas.
.LAW Network launches as Got.Law
One of the first vertical initiatives of DigitalTown was the legal vertical. This was made possible through the acquisition of the assets of JustLegal in November 2017. DigitalTown controls 3,441 .LAW domains mapping to major population centers with legal economies, e.g. Denver.Law and is currently rolling out legal service provider discovery portals in cooperation with independent attorneys and local Bar associations under the umbrella brand Got.Law. By using the Got.Law platform consumers can schedule appointments, complete live video consults, and pay lawyers.
.MENU Network launches as Smart.Menu
DigitalTown has partnered with the .MENU registry to create Smart.Menu, a turn-key platform that equips any provider of prepared foods with the ability to create an interactive and searchable Smart.Menu portal, including the ability to search down to the ingredient level. Patrons can also use the platform to book tables and place online orders with participating restaurants. Smart.Menu currently maintains searchable menus for 1.6 million restaurants.
.BIBLE Network launches as Your.Bible
Developed in cooperation with the American Bible Society (ABS), the oldest and largest Bible society in the United States, DigitalTown's Your.Bible software platform empowers ministry organizations to produce easy to use websites for content and transactions.  The platform was released in January and is being marketed by ABS.
.FASHION Network
Currently in the concept stage, the planned development seeks to connect local consumers with peer-to-peer fashion marketplaces where they can rent and purchase used and new fashion directly from local providers. DigitalTown controls 5,464 .FASHION domains that map to major population centers. The platform is expected to launch under the umbrella brand name My.Fashion.
.FIT Network
Currently in concept stage, the planned development seeks to connect local consumers with fitness professionals in their community for online scheduling and purchase of personal training services and fitness centers. As of February 2018, DigitalTown owns 5,699 .FIT domains, mapping to major population centers. The platform is expected to launch under the umbrella brand name Get.Fit.
.SHOP Network
Currently in development, Smart.Shop enables merchants to activate their own branded merchant portal using the .SHOP domain extension. Consumers are able to search for products across multiple online storefronts and place orders using their SmartWallet on a single login. The platform is currently in development in cooperation with the .SHOP registry, with a pilot operating in London.
.WEDDING Network
The planned development seeks to connect local consumers with local wedding planners, while providing direct booking with local hotels, catering and related services.  As of February 2018, DigitalTown owns 5,830 .WEDDING domains mapping to major population centers around the world, e.g. Bali.Wedding, as well as premium domains such as Destination.Wedding, Christian.Wedding, Catholic.Wedding and Budget.Wedding. The platform is expected to launch under the umbrella brand name Your.Wedding.
.WORK Network
DigitalTown is currently exploring a development partnership with a developer of Smart employment portals that uses Artificial Intelligence (AI) and social media tools to match candidates to local job opportunities.  As of February 2018, DigitalTown owns 13,713 .WORK domains mapping largely to population centers around the world. The platform is expected to launch under the umbrella brand name Get.Work.
.BAYERN, .BOSTON, .LONDON, .MIAMI, .NRW Networks
DigitalTown is working with region-specific registry operators to bring DigitalTown to regional markets, while leveraging their local domain extensions. As part of these strategic initiatives, DigitalTown owns portfolios across,.BAYERN (2000 domains), .BOSTON (16,978 domains), .LONDON (27,465 domains), .MIAMI (5,494 domains), and  .NRW (1000 domains).  Geographic domains held are mainly the most common first names and last names for the region and intended for use as branded permanent digital addresses for residents of these cities, powered by DigitalTown.
Rob Monster, CEO of DigitalTown commenting on the SmartWeb progress explained, "The new domain extension economy will benefit greatly from a unified architecture that both streamlines adoption by merchants and publishers, but also empowers consumers to engage with these services on a frictionless basis. We believe that domain investors have greatly undervalued the potential of the new domain extensions to improve people's lives, while also empowering businesses to more effectively compete. As with the .CITY portals, for cases where a single domain investor does not acquire a domain, we foresee potential for local vertically-focused Marketing Cooperatives that are jointly owned through Blockchain, Denver.Law, Seattle.Fit, Chicago.Menu, Bali.Wedding, Miami.Work, etc."
About DigitalTown
DigitalTown, Inc. (OTC :DGTW) empowers Smart Cities to succeed in the Digital Age. The company provides turn-key hosted solutions to power "Digital Towns", which improve Quality of Life for residents and visitors through locally owned solutions for economic development, civic engagement and digital inclusion for cities around the world. For more information about the company, please visit www.digitaltown.com.
Safe Harbor Language: Any statements contained herein related to future events are forward-looking statements and are made pursuant to the safe harbor provisions of the Private Securities Litigation Reform Act 1995. Readers are cautioned not to place undue reliance on forward-looking statements. DigitalTown, Inc. undertakes no obligation to update any such statements to reflect actual events.
For more information about DigitalTown, or to learn about pre-sale and partnership opportunities for the SmartWeb, visit on the web at DigitalTown.com or contact the company at info@digitaltown.com.